WLF Universe- Legends Wresting Alliance
WLF Universe- Legends Wresting Alliance
08-15-2014, 07:23 PM
(This post was last modified: 06-02-2016 01:40 AM by CorsRoc15.)
Post: #1
CorsRoc15


Wrestlemania Main Eventer.


Posts: 1,031
Joined: Oct 2013
Reputation: 4
Status: Offline
WLF Universe- Legends Wresting Alliance
WWE Press Release:
World Wrestling Entertainment has been promoting wrestling for over 70 years. Throughout those years, the industry has changed with the times. In recent years, the industy has prepared itself for the future. NXT has been a huge success for The WWE, and as we continue to groom stars of the future in a very exciting fashion, we can't help but notice a market gap. The WWE has many different types of fans. There are young fans who are enamored with the current product, World Wrestling Entertainment. They love tuning in, each and every week to see John Cena pick up opponents of his head and give them an attitude adjustment! They love watching The USO's, Randy Orton, Brock Lesnar, and so many more.
Then we have our fans who look forward to the future. Who focus more on in the quick paced, high flying action of the soon to be superstars next decade. Those superstars are already making an impact in The WWE. Superstars like Kevin Owens, Adrian Neville, Bray Wyatt, of course the women of The Diva Revolution. This has become a huge market for The WWF, and has helped the success of the WWE Network, as the Network has helped the success of NXT. However, we have found a way to develop and reach out to perhaps what could be considered our most profitable market yet. The OLD SCHOOL Fans.
The fans who watched in awe as Hulk Hogan slammed Andre The Giant in front of 93,000. The fans who watched as The Mega Powers exploded at WrestleMania 5! The fans who saw The Ultimate Warrior and Hulk Hogan nearly destroy each other at WrestleMania 6! The fans who thought for certain that Hulk Hogan and Ric Flair would headline WrestleMania 8, and never quite got the real dream match. They watched Bret Hart regain The WWF Title at WrestleMania 10. They watched this and so many more under the umbrella that was known as: The World Wrestling Federation. However, on May 5th, 2002 The WWF would be no longer. We fully believe this was for a greater good, and it allowed us to transition our product into the next millennium. We realized this segregated many fans of the product, which was not our intention. Nostalgia is a furious emotion that refuses to die within many. With a company so rich in history, we have been spending feverishly trying to research a way to bring our fans back to their youth, while embracing the future. Thus, Vincent Kennedy McMahon is announcing the third brand under The WWE umbrella, it is indeed a case of history repeating itself. Ladies and Gentlemen, WWE Inc. Is very proud, and very excited to announce the return of......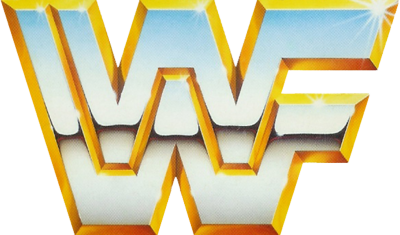 The World Wrestling Federation for over 70 years, the revolutionary force in sports entertainment! Four days ago, The WWE struck a deal with The World Wildlife Fund, in which The WWE bought the naming rights back from The World Wildlife Fund. We know that there are many questions, probably more questions then we have answers. Just know that with time, the questions will be answered. So until then, let the anticipation grow. Go back to your favorite WWF Matches of all times, or matches that never happened, and relish in the thought of that match taking place. Not then, but now. Thing of superstars that never were WWF superstars. The WrestleMania 8 main event of The Nature Boy Ric Flair, taking on Hulk Hogan, it could be right around the corner. This is bigger then wrestling, this is an epic story unfolding before everyones very eyes. We will keep you updated with information daily.
08-15-2014, 10:59 PM
(This post was last modified: 08-25-2015 04:19 PM by CorsRoc15.)
Post: #2
CorsRoc15


Wrestlemania Main Eventer.


Posts: 1,031
Joined: Oct 2013
Reputation: 4
Status: Offline
World Championship Wrestling Federation
Press Release # 2:
FAQ Page.
1.) Who will be competing for The new World Wrestling Federation?



-Anyone and everyone who is signed to compete with The WWF! The catch is, WWF superstars, unless holding a championship will be paid per appearance. This will allow for many of your favorites to compete for The WWF, once again! The WWE umbrella is quite large. This means that if you are signed with The WWE, or NXT, you could very well make an appearance in The WWF! Or Vice Versa




2.) So who is signed to a WWF deal?



-To start off, The WWF has taken their legend deals, and transferred them over to The WWF, with the proper negotiations of course. These men include, Bob Backlund, Mick Foley, Ricky Steamboat, Shawn Michaels, Sgt. Slaughter, Stone Cold Steve Austin, Sean Waltman, and Tatsumi Fujinami! All of these men will be appearing at the inaugural WWF event.



3.) I was a huge fan of "Stunning" Steve Austin as a kid, which version of Stone Cold will I be watching in the NEW WWF?



-[This is where you suspend your belief.] Each superstar signed to appear for The WWF will have a a decision to make. Vince McMahon has poured millions into new research studies that can help individuals return to their prime. Obviously, Stone Cold found the most success when he was kicking ass and taking names in the late 90s. But if Stone Cold, once again wanted to be Stunning, he could very well decide to do just that. Once each wrestler is signed to appear for The WWF, it will be very clear what era that superstar will be portraying. What about Mick Foley? Will we see Mankind? Cactus Jack? Or maybe even Dude Love! OWWW Half Mercy!



4. What about superstars that I haven't seen in years? Such as Andre The Giant, Mr. Perfect, or Kerry Von Erich due to unfortunate circumstances?



-[More suspension of disbelief folks.] These individuals who have been out of the lime light for quite some time for one reason or another, have been contacted. There is definite interest there, and Vince McMahon being the businessman that he is, has spared no expense in finding a way to bring these superstars back to you in the NEW WWF, to face off against superstars of yesterday, today, or tomorrow.
OOC:
The use of deceased wrestlers, and storylines I write for them is not to be intended disrespectful in anyway. It's more to pay homage to them. Obviously these superstars have been deceased for quite some time, and in the end, this is all a fantasy world here. I try to make it as realistic as possible, but it wouldn't be as fun for me if I couldn't use some of my favorite superstars of all time. The idea is that these men and women's deaths didn't happen. They just decided to step away from The Wrestling World for one reason or another. Vince is going to try to wrangle up as many of these superstars as possible.
5.) Speaking of tomorrows and today's stars, can they sign an exclusive WWF pay per appearence deal or will The WWF only be open to past superstars?



-As we said earlier you we see some cross promotion over the course of The NEW WWF,WWE, AND NXT. Now, say Dolph Zigglers current WWE contract expires. He decides he wants to face off against a different variety of superstars. He can very well sign a pay per appearence deal to compete with The WWF, and make that his main promotion. NXT or other free agents can do the same. You will get new superstars appearing once in awhile and trying to make a name for themselves in The WWF, as opposed to WWE.



6.) Who will be the owner, of boss of The WWF?



-This is an easy question, it's going to be...VINCENT KENNEDY MCMAHON! Vince has stepped aside for the most part with the running of The WWE. He has handed that off to his daughter Stephanie, and her husband, Triple H. Triple H is also main operator of NXT. Vince is going to focus on building up The WWF, much like he did back int he 80's before he fades into retirement. A plan is in place, and Vince wants to make The WWF huge once again. The idea is that by adding this segment, and cross promoting. WWE fans will meet old WWF fans, and make the product that much stronger heading into the future.



7.) Where can I watch The WWF?



-You'll be able to watch The WWF, on The WWE Network. Sounds confusing? Vince McMahon is seeking out a TV Deal for The WWF. Until then, it will air it's first show , or possible pay per view, on The Network. Vince is confident this will send subscriptions through the roof. The WWF will start off with one hour specials on the Network. Not sure if it will be weekly, bi weekly, or monthly. But you're first event is a few weeks away, so get fired up!



8.) What shows or pay per views will The WWF be using if, WWE currently occupies the majority of the shows The WWF used when I used to watch?



- The WWE does use the majority of pay per views that were used by The WWF. But not all of them, remember Vince also owns all the rights to WCW events. You may see one of those slip in there. We can tell you right off the bat, that WWF's weekly show that they are trying to get picked up is Saturday Night's main event. Also the first pay per view announced for The WWF, will be The King of The Ring. More information about Pay Per Views and shows will be announced soon.



9.) What about championships? The WWF's titles are being used by The WWE!



-Great question! We want to avoid confusion, however, want fans to truly feel familiar with The WWF product we are producing. The WWF Championship will be the main championship of the promotion. Vince is adamant about having given Triple H and Stephanie full reign of The WWE and it's RICH history. The WWF will have a new lineage featuring the old classic winged eagle belt. The WWF really wants to emphasis tag team wrestling, hence there will be The WWF Tag Team Championships. Those titles looking similar to the titles that were around in the 80's and 90's. As for The Intercontinental Championship, that won't come with The WWF. Because the WWE still has their IC title intact, we won't steal what is under that brand. There will be a third title, and it will be announced soon. It could be the return of a defunct title, or a brand new title.



10.) How large will the roster to be? When will it start?



-As we said, this will be strictly paid for appearance, or possibly several appearances, maybe signing for weeks at a time. There will be no set roster. Each superstar that signs a pay per appearance deal however, does agree to certain terms. If they win a WWF championship an iron clad contract is locked into place, and that superstar is signed with The WWF until said title is lost.
05-31-2015, 02:10 AM
(This post was last modified: 08-25-2015 07:57 PM by CorsRoc15.)
Post: #3
CorsRoc15


Wrestlemania Main Eventer.


Posts: 1,031
Joined: Oct 2013
Reputation: 4
Status: Offline
WLF Universe- Legends Wresting Alliance
WWF Staff and Official Roster:
WWF President:
Jess " The Body" Ventura
WWF Announce Team:
Bobby " The Brain " Heenan and Jim Ross
WWF Lead Interviewer:
"Mean" Gene Okerlund
---
World Wrestling Federation Shows:
WWF's Saturday Night's Main Event
January-Retro Rumble
March-Showdown - Legends of Wrestling
May- The King of The Ring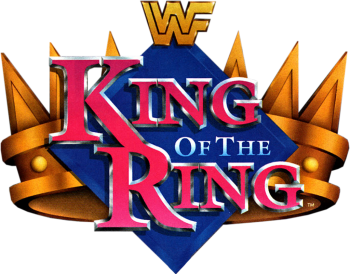 July-Rage in The Cage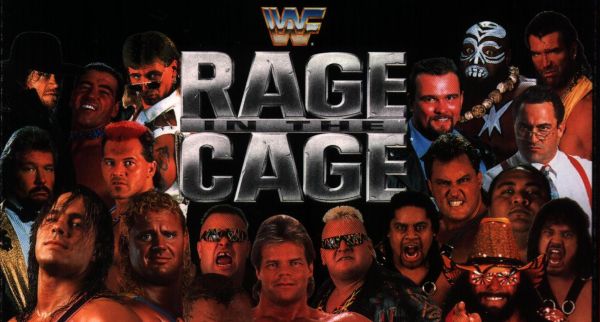 November- In Your House
07-14-2015, 01:08 AM
(This post was last modified: 09-04-2015 03:49 AM by CorsRoc15.)
Post: #4
CorsRoc15


Wrestlemania Main Eventer.


Posts: 1,031
Joined: Oct 2013
Reputation: 4
Status: Offline
WLF Universe- Legends Wresting Alliance
World Wrestling Federation Title History
WWF Heavyweight Championship
1. Bret Hart won a 40 man royal rumble on August/ Week 4/ 2015 for the vacant WWF Championship.
WWF North American Championship
WWF World Tag Team Championships
Offical New World Wrestling Federation Singles Roster: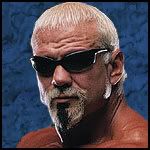 New World Wrestling Federation Tag Team Roster:
07-17-2015, 05:06 PM
(This post was last modified: 08-26-2015 03:59 AM by CorsRoc15.)
Post: #5
CorsRoc15


Wrestlemania Main Eventer.


Posts: 1,031
Joined: Oct 2013
Reputation: 4
Status: Offline
WLF Universe- Legends Wresting Alliance
Mean Gene Okerlund:
Hello everyone and welcome to this special edition of WWF update. We have a major announcement coming your way in regards to the VERY FIRST show airing on The WWE Network. The World Wrestling Federation is proud to announce a two hour special coming your way next week! Just seven days away, folks! It's going to be a very special edition , of what we hope to make out weekly broadcast, Saturday Night's Main Event!
Now here's the catch folks, it's a two hour show, but the first half hour is going to be sort of a preview of sorts. We are planning on delivering to you, one of the biggest matches in wrestling HISTORY. Vince McMahon is putting that WWF Title, on the line on the very first edition of Saturday Night's main event! It's going to be up for grabs in a battle royal. But not a typical thirty man battle royal, a FORTY MAN, over the top war for what could end up being the most coveted title in all of pro wrestling in just a short amount of time!
Now Vince McMahon has promised all you fans legends you loved for years, and new comers as well. We have a list of ten of the superstars CONFIRMED for this over the top rope battle to decide the very first NEW World Wrestling Federation Champion! Those names include
The Hitman! Bret Hart!
The One and Only STONE COLD STEVE AUSTIN!
He's simply, Ravishing folks, Of course I'm talking about Rick Rude!
Making his return to the squared circle, he claims to be the best in the world, C! M! PUNK!
If he wins this, it'll make him a 17 time World Heavyweight Champion! The Nature Boy, Ric Flair!
A former two time, WWE Champion, and don't call him Bob, it's Mr. Backlund to you!
How about this monster, a former WWE Champion, how in the world will this monster get sent out of the ring? Yokozuna!
He's a world champion caliber wrestler, but was never given the opportunity to capture the gold, folks, the return of the one and only, Mr. Perfect!
How about, a former tag team specialist turned into ...well...a freak. Big Poppa Pump! Scott Steiner has signed on for this once in a lifetime opportunity!
The last name we have for you folks is good one, it's....Mic....err..I guess it's going to be Mankind! Not Mick Foley! Mankind! Folks we will have more names for you later in the week. All I can say is next Saturday Night, at 8pm eastern standard time, you better be glued to The WWE Network, and if you don't have a subscription, HA, well lucky for you it only costs 9.99 per month. You can even get the first month free! Meaning you get this , perhaps the biggest royal rumble of all time, for free! Don't miss out, as much as I want to say call your local cable service provider, that would be incorrect. Log on to WWE.com, and sign up for the Network! That's all for tonight folks, we'lll see you next Saturday!
07-18-2015, 03:59 PM
(This post was last modified: 08-27-2015 06:02 AM by CorsRoc15.)
Post: #6
CorsRoc15


Wrestlemania Main Eventer.


Posts: 1,031
Joined: Oct 2013
Reputation: 4
Status: Offline
WLF Universe- Legends Wresting Alliance
WWF Presents:
Saturday Night's Main Event
August / Week 4/ 2015
Live from Madison Square Garden
New York City, NY

Two Hour Special, Live on The WWE Network!
WWF CHAMPIONSHIP
Main Event: 40 Man Royal Rumble
Participants Signed To Appear:
1. Bret Hart
2. Steve Austin
3. Ric Flair
4. Bob Backlund
5. Mankind
6. Yokozuna
7.Rick Rude
8. Mr. Perfect
9.CM Punk
10. Scott Steiner
11.Bam Bam Bigelow
12.Brian Pillman
13.Diamond Dallas Page
14.Hulk Hogan
15. Jake Roberts
16. Kerry Von Erich
17.Razor Ramon
18. Sgt. Slaughter
19. Shawn Michaels
20.Ultimate Warrior
21.Ricky steamboat
22. Vader
23. Lex Luger
24. Sid Justice
25. Kurt Angle
26. Taz
27. Shane Douglas
28. Goldberg
29. Randy Savage
30. Bruno Sammartino
31.Owen Hart
32. Roddy Piper
33. Harley Race
34.Terry Funk
35. Ted DiBiase
36. Andre
37. Diesel
38.Ron Simmons
39. Chris Jericho
40.Dusty Rhodes

07-22-2015, 03:23 PM
(This post was last modified: 08-28-2015 09:55 PM by CorsRoc15.)
Post: #7
CorsRoc15


Wrestlemania Main Eventer.


Posts: 1,031
Joined: Oct 2013
Reputation: 4
Status: Offline
WLF Universe- Legends Wresting Alliance
WWF Presents:
Saturday Night's Main Event!
August/Week 4/ 2015
Live from Madison Square Garden, New York
Only on The WWE Network!
---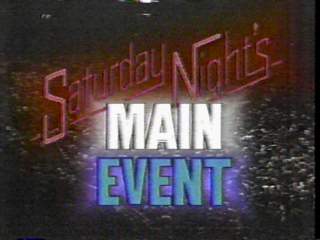 Opening:

Fireworks explode as the camera pans around the sold out crowd here at Madison Square Garden to witness the most historic wrestling event of all time. Fans are going insane as the old theme to Saturday Night's Main Event plays in MSG. The camera eventually reaches the broadcast booth, where fan favorites, good old JR, and THE LEGENDARY, BOBBBBBBY THE BRAINNNN HEENAN are sitting. The crowd breaks out in a "Bobby! Bobby! Bobby!" chant. Heenan waves to the fans as he is almost over come with emotion during the chants.
From The Broadcast Booth
: " Hello Everybody! It is my distinct honor, and privlege to welcome you to, or perhaps back to The WORLD WRESTLING FEDERATION! and Saturday Night's Main Event!" Heenan can't believe he is here, the fans are still going nuts. Heenan finally spits out some words , " Ross, I can't I can't even believe it. For the first time in my career, I'm at a complete loss for words. Vince McMahon has done some amazing things in his lifetime, but this is by far the greatest! THE GREATEST!" Ross says tonight, they have one match, but its worth the price of admission in this two hour special. The match is set to kick off in just under 30 minutes as it will be a 40 man royal rumble contest. "27 of the 40 legendary competitors in this one are former World Champions!" Heenan says the line up for this royal rumble trumps any event ever put together in the history of wrestling! Ross then says it's his honor again, to kick it over to one of the most recognizable men in professional wrestling "Mean Gene Okerlund!"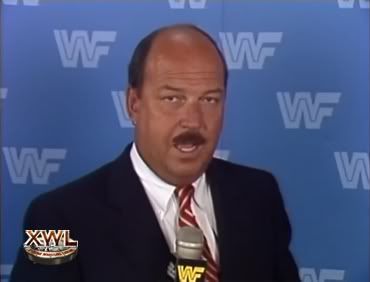 Mean Gene Intro:

" Thank you very much JR, and Mr. Bobby Heenan. Never in my wildest dreams did I imagine I would find myself back here in The WWF. It's like a sequel to back to the future guys." Okerlund goes on to say they are about 25 minutes away now from the tremendous battle royal. He begins to spill some of the names involved. Including, Jake Roberts, Bret Hart, Shawn Michaels, Mr. Perfect, Brian Pillman, Bam Bam Bigelow, Sid Justice, Ricky Steamboat, and the names go on and on. Okerlund says he's going to be grabbing a few of these returning superstars to grab a few quick words with them about the opportunity of becoming WWF Champion, and catapulting themselves to elite status in the world of professional wrestling once again. Mean Gene says its time to head to the ring to a familiar voice, Howard Finkel!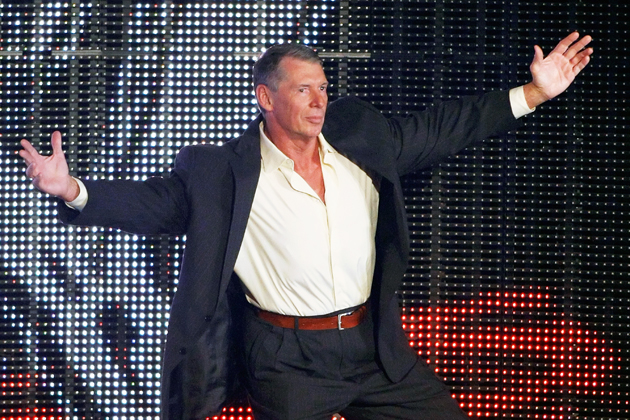 Vince McMahon Promo:

Howard Finkel gets a huge ovation when we get to him standing in the ring. He thanks the crowd and introduces us to the owner of the NEW World Wrestling Federation, VINCE MCCCCMMAHON! McMahon makes his way to the huge to a massive ovation from this MSG crowd. Vince says this was a dream come true. He knows there are fans that longed for the days of yester year, and knows that many feel the greatest times of wrestling are not ahead of us, but were always behind us. VInce says "Now, the best years of wrestling, with the help of the superstars of yesterday, are indeed once again in front of us." Vince calls the WWF meeting The WWE the mix eclectic, legendary, mix of superstars. Superstars competing in dream matches almost weekly. Vince says there are alot of obstacles that come with running a promotion like this, so he needs a right hand man to help control the chaos. " Ladies and Gentlemen, helping me run the day to day operations of The New World Wrestling Federation! THE BODY! Jeeeeessssseeeeeeee VENTURRRRRRRAAAAAAA!!!!!"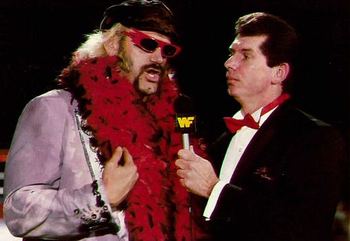 WWF President Introduction:

Jesse Ventura makes his way down to the ring to another rousing ovation. Ventura embraces Vince in the ring and says "Mr. McMahon, this is the greatest decision you have ever made in your life!" Jess goes on to say the only down side to the gig is that he isn't able to compete in the ring tonight to win The WWF Championship. Ventura claims that much like his broadcast work, he is going to be the most fair, biased president the WWF has ever seen. " Unlike presidents of the past, Vince, I won't get involved unless it's nessescary. I won't show favortism to the likes of a Hulk Hogan or even my friends Rick Rude and The Macho Man. I'm going to call it as I see it, right down the middle, starting with tonight! Also starting with this announcement for ya Vince. " I'm going to stricly enforce the thrity day title defense rule. After tonight, We are trying to put together a weekly show here on The Network, and eventually move on to cable television. However, next month, it's going to be the first pay per view in the new WWF. It's going to be WWF'S Fall Brawl! Where who ever wins the battle royal tonight will defend the title against the competitor who has the most eliminations, Vince. That makes it fair! If you enter the rumble at 30, you have a better chance to win the gold then the guy who comes in at number one! But if your in at number one, try to stack up as many eliminations as possible, because it could earn you a shot at the belt next month!" Vince loves the idea, the crowd pops and both men head to the back as JR says we are now just 17 minutes away from the start of the battle royal!
Dusty Rhodes Promo:

Mean Gene is standing by with The American Dream! Dusty Rhodes! " Mean Gene babeh!" Rhodes is over the top excited. " I can't believe I'm back here, getting ready for perform in this big time 40 man over the top rope royalll rumbleeee! I can't believe some of the guys walking around backstage. Guys who I've tango'd with in the past, and guys that I would have loved to put on matches with! You see tonight, The Dream gets to do what he was never given the chance to do way back when! Tonight, The Dream gets to go out there and show whyyyy he was the greatest threat to the greatest wrestler of all times, talking about Ric Flair. I saw The Nature Boy walking around backstage, and I would love nothin' more then to have it come down to he and I, and throw his 16 time World Championship winning hiney right over the top rope to the floor, and be the NEW...or The First NEW...WORLD WRESTLING FEDERATION Champion! Mean Gene, how much time we got left?" Okerlund says we are just fifteen minutes away. Okerlund asks Dusty what number he drew. " Babeh, that's for me to know, and the worrrrrld to find out! It doesn't matter what number I drew, I've been overcoming odds all my life, and weather I drew Number one, or number forty, I'll be the one with the gold at the end of the night!"
Mr. Perfect interview:

Mean Gene sends it over to Sean Mooney who is standing by with Mr. Perfect! The fans pop huge inside MSG when they see Perfect appear on the big screen. Mooney says this is a night to remember, and asks Perfect about his chances " You're damn right this is a night to remember, Mooney! This is MY NIGHT to remember for the rest of my life. Mr. Perfect was always perfect, but never got the chance to be " The Man" so to speak. Tonight, I'm not letting anyone stand in my way. I'm taking matters into my own hands! 27 men are in this rumble, who have held WWF ,WCW, or NWA World Championships. I never had the opportunity to hold those titles, but if I did, you can bet I'd still be walking around with them around my waist! Tonight, Mr. Perfect walks into this forty man rumble as some sort of an under dog in the eyes of many, but when I walk out, I'm going to be the top dog, and there will be NO DOUBT about that! You know why , Mooney? Because I am EVERYTHING that I say I am, and THAT'S PERFECT!"
Stone Cold joins the booth:

Jim Ross is about to take us to our next pre rumble segment, but before he can a loud disruptive noise is heard. Stone Cold just grabbed the headset right off Bobby Heenan. " Good to see ya, Jim! Now listen to what Stone Cold has to tell ya!" Austin goes on saying it's nothing but a dick measuring contest in the locker room with guys like Hulk Hogan, Shawn Michaels, and Ric Flair all being in the same room. Ross asks Austin to watch the languge and Austin says you know that isn't going to happen. Heenan seems annoyed that Austin ripped off his head set...." Son, do you want me to smack that stupid looks off your face?" Heenan for once, stays quiet. Austin says tonight he's going to get a chance to beat the living hell out of the greatest stars in the history of this business. Whether he drew one, two, seven, thirty five, doesn't matter! Austin promises to whoop the ass of WHOEVER gets in his way in that ring. Jim asked Steve if he'll be sticking around despite the outcome of the rumble. Austin looks peeved for JR doubting him, and knocks the Cowboy hat right off his head as he stamps off back to the locker room.
-Ross and Heenan talk more about the supstars involved tonight. Ross says we are now just 11 minutes away from the rumble, and we have some big guns standing by backstage. Take it away Mean Gene!
Hulk Hogan Promo

: Mean Gene seems to be most excited for this interview. He introduces The Immortal Hulk Hogan! Hogan starts off with " Well ya know something Mean Gene......." Hogan goes on to say it feels great to be back in THe World Wrestling Federation, and it's going to feel even better when he throws thirty nine other guys over the top rope to the floor. Then grabs that WWF Title and wraps it securely around his waist. Hogan says he respects that this rumble has the very best of the best, but he's beaten them all. Name em, and I've been em, says Hogan. Hulk warns the 39 men in the rumble when he ends his promo " Watcha Ya gon' do, World Wrestling Federation, when Hulk Hogan and allllllll of his Hulkamaniacs, run willlldddd onnnn youuuuuuu!"
Bret Hart promo:

Sean Mooney is with The Hitman, Bret Hart. Sean says they are now just 5 minutes away from the biggest battle royal. He ask's Bret what he thinks his chances are. " Sean, I've got alot to prove. I've always claimed to be the best there is, was, and ever will be and I'll stand by that long after I'm gone. Here's my chance to prove! He's my chance I am just that, the very best ever. Hogan, Flair, Savage, Shawn, Austin, Race, Andre, DiBiase.....I could go on and on. All of these names involved in this rumble, and the winner takes all!" Bret goes on to say this is a dream come true, and if he wins tonight, he'll wear that New WWF Championship with nothing but pride, and do The world of professional wrestling proud once again! Bret heads off as Sean sends it back to the broadcast booth!
-Back at the booth, Jim Ross and Bobby Heenan prepare us for the royal rumble, again revealing more names involved that we have yet to hear. They send it over to Howard Finkel. Finkel explains the rules, and then announcers who drew Number One!
WWF CHAMPIONSHIP
Main Event: 40 Man Royal Rumble
Bret Hart won a 40 Man Royal Rumble for The World Wrestling Federation Championship in 1 Hour and 28 minutes. He drew number 12, and eliminated 12 other superstars.
This was one of the most impressive performances in a rumble of all time. Lex Luger drew number one, with The Million Dollar Man getting number two. Rowdy Roddy Piper drew number six, and made a huge impact throughout the contest. Piper eliminated over five superstars in this rumble, and put him on pace for that number one contenders spot. The Ultimate Warrior and Hulk Hogan came in at 9 and 11, the crowd was red hot for them but it was Warrior dumping Hogan over the ropes that shocked the crowd. When Bret came in, Piper and The Hitman had many moments of working together, and other moments are trying to destroy each other. CM Punk made a surprise return to wrestling but he was eliminated by The Hitman as well. Earlier in the rumble, Stone Cold came out at number 5, he quickly threw out long time friend Brian Pillman, but couldn't over come his early pick. When Bret came out at 12, it wasn't the best of draws, but what he did with it was nothing short of amazing. He was close to elimination several times, just grabbing onto the ropes to reel himself back into the ring. Diesel almost had him out of there three times. HBK came in to the rumble and went right at The Hitman, before Savage dumped him over the ropes. Yokozuna drew 22 and had a most impressive stay in the rumble, not being eliminated until an amazing feat of strength by Kurt Angle towards the end. Even Andre couldn't do anything about The Hitman who joined forces with Ric Flair and DPP to get rid of the Giant. Bret was in very visible pain, and exhausted. Kurt Angle was in at 35 and took charge for the later portion. Until it came down to Bret and Angle. This is a talked about dream match, Happening right before our very eyes. The Hitman avoided an Angle slam that was an attempt to dump him over. Bret managed to land on the apron. Angle charged at Bret who was on the outside and ducked with the bottom rope, sending Angle flying to the floor. The crowd erupted. As Howard Finkel announced Bret Hart the winnner of the 40 man royal rumble and THHHHEEEE NEEEEEEEEEEEEEWWWWWWWWWWWWW World Wrestling Federation Champion!
Order of Entry.
1. Lex Luger
2. Ted DiBiase
3. Ron Simmons
4. Brian Pillman.
5. Steve Austin
6. Roddy Piper
7. Taz
8. Bob Backlund
9. Ultimate Warrior
10. Owen Hart
11. Hulk Hogan
12. Bret Hart
13. Chris Jericho
14. Bam Bam Bigelow
15. Bill Goldberg
16. Terry Funk
17. Rick Rude
18. CM Punk
19. Randy Savage
20. Bruno Sammartino
21. Dusty Rhodes
22.Yokozuna
23. Diesel
24. Shawn Michaels
25. Kerry Von Erich
26. Sid Vicious
27.Mankind
28. Ric Flair
29. Jake Roberts
30. Mr. Perfect
31. Harley Race
32. Scott Steiner
33. DDP
34. Andre The Giant
35. Kurt Angle
36. Shane Douglas
37. Big Van Vader
38. Ricky Steamboat
39. Sgt. Slaughter
40. Razor Ramon
Order of Elimination
1.Ted DiBiase by Lex Luger (1)
2.Lex Luger by Ron Simmons (1)
3. Ron SImmons by Roddy Piper (1)
4. Brian Pillman by Steve Austin (.5) and Bob Backlund (.5)
5. Taz by Roddy Piper (2)
6. Steve Austin by Piper (3)
7.Owen Hart by Piper (4)
8. Bob Backlund by Bret Hart (.5) and Ultimate Warrior (.5)
9. Hulk Hogan by Ultimate Warrior (1.5)
10. Chris Jericho by Bret Hart (1.5)
11. Ulimate Warrior by Bam Bam Bigelow (1)
12. Bam Bam Bigelow by Bret Hart (2.5)
13. Bill Goldberg by Bret Hart (3) and Roddy Piper(4.5)
14. Terry Funk by Bret Hart (3.5) and Roddy Piper (5)
15. Rick Rude by Bret Hart (4) and Roddy Piper (5.5)
16. CM Punk by Bret Hart (5)
17. Roddy Piper by Randy Savage (1)
18. Bruno Sammartino by Bret Hart (6)
19.Dusty Rhodes by Bret Hart (6.5) and Randy Savage(1.5)
20. Shawn Michaels by Randy Savage (2.5)
21. Kerry Von Erich by Bret Hart (7)
22. Sycho Sid by Diesel (1)
23. Mankind by Randy Savage (3) and Bret Hart(7.5)
24. Randy Savage by Diesel (2)
25. Harley Race by Diesel (2.5) and Bret Hart (8)
26. Diesel by Bret Hart (8.5) and Jake Roberts (.5)
27. Mr. Perfect by Ric Flair (1)
28. Jake Roberts by Scott Steiner (1)
29. Scott Steiner by Flair (1.33), DDP (.33) and Bret Hart (8.83)
30. Andre The Giant by Bret (9.13), Flair (1.66), DDP (.66)
31. Ric Flair- DDP (1.66)
32. Shane Douglas- Kurt Angle (1)
33. Diamond Dallas Page - Bret Hart (10.13)
34. Vader by Kurt Angle- (2)
35. Ricky Steamboat by Kurt Angle (2.5) and Bret Hart(10.63)
36. Sgt. Slaughter by Kurt Angle(3.5)
37. Razor Ramon by Bret Hart (11.63)
38. Yokozuna by Kurt Angle (4) and Bret Hart(12.13)
39. Kurt Angle by Bret Hart (13.13)
New Champion Crowned:

Bret Hart had dropped to the center of the ring as the title was handed to him. Bret could barely stand as his music played and an irate Kurt Angle made his way to the locker room. Bret got himself up to his feet and held his title high in the air. Jogging out to the ring was The British Bulldog and Owen Hart. Both men slide under the ropes and wrapped their arms around The Hitman to a huge pop. Bret hugged Owen tight as the two men seemed over joyed. Bret stood in the center of the ring, with his brother, and brother in law. Holding The WWF Title high in the air. Jim Ross said this was perhaps the biggest moment the wrestling world has seen in the last 15 years. Heenan agreed and said Bret Hart deserved this moment here for all he did tonight, and all he's endured in the past! Saturday Night's Main Event Two Hour Network Special goes off the air with The Hitman and his family celebrating!
07-23-2015, 04:12 PM
(This post was last modified: 08-28-2015 04:27 PM by CorsRoc15.)
Post: #8
CorsRoc15


Wrestlemania Main Eventer.


Posts: 1,031
Joined: Oct 2013
Reputation: 4
Status: Offline
WLF Universe- Legends Wresting Alliance
WWF Update:

Bret "The Hitman" Hart wins 40 Man Royal Rumble to become The World Wrestling Federation Champion!
New York City, NY-
If You missed it, well you shouldn't have! The WWF returned live and on The WWE Network where we watched Bret Hart outlast 39 other superstars. The Hitman, drew number 12 and at that time it seemed like a death sentence, but Hart was able to dump out 13 other superstars on his way to becoming The WWF Champion! Bret met with several foes from his past, including The Heartbreak Kid Shawn Michaels. Diesel entered the rumble and attempted to throw out the Hitman, several times, coming closer each and every time.
In the end, it came down to Kurt Angle, and Bret Hart. This is what The WWF is all about. This is exactly what Vince McMahon had in mind when he re created his greatest business venture of all time. Angle and Hart put on an exciting finish to the rumble, trading suplexes, submissions, and take down. Angle got the upper hand, and went for the Angle Slam, but instead of going for it in the center of the ring, Angle tried to toss Bret up and over the top rope! The Hitman, foiled those plans and latched on to the middle rope holding himself on the apron. Angle turned around and charged at The Hitman, where Bret ducked down, yanking the top rope with him, senging Angle up and over allowing Hart to win the match and become the first ever NEW WWF World Champion!
Emotional scene after the contest. Bret barely able to stand was handed The WWF Championship. That beautiful gold eagle winged championship that Bret had grown accustomed to throhout the early to mid 90's. Hart gripped the title close, when he stood to his feet, Owen Hart and The British Bulldog rushed to the ring. The fans unsure of where the family stood with each other, sort of wait in silence, until Owen opened his arms up wide and embraced big brother, Bret. Bulldog did the same as the three men celebrated holding up Hart's arms in victory. The next WWF event is scheduled to occur next week, due to this events massive success. Subscriptions have sky rocketed for The WWE Network. Vince is undoubtedly trying to capitalize on this situation.
07-24-2015, 04:17 PM
(This post was last modified: 08-31-2015 09:12 PM by CorsRoc15.)
Post: #9
CorsRoc15


Wrestlemania Main Eventer.


Posts: 1,031
Joined: Oct 2013
Reputation: 4
Status: Offline
WLF Universe- Legends Wresting Alliance
WWF Presents:
Saturday Night's Main Event!
September/Week 1/ 2015
Live from Manhattan Center, New York
Only on The WWE Network!
---
SNME Open:

Saturday Night's Main Event opens up with a video package. The video shows all of the highlights from last week's Rumble. We see Austin throwing out Pillman, Warrior tossing Hogan, Flair battling it out with Harley Race. Hot Rod dumping out over 5 superstars during his hot streak. Bret Hart entering at number 12. Savage tossing Shawn Michaels. Big Daddy Cool almost dumping Bret Hart out of the ring 3 different times, with Hart barely hanging on. DDP, Flair, and Hart teaming up to eliminate Andre The Giant. Then we see it come down to a dream match, Kurt Angle and Bret Hart. Both men didn't give an inch for several minutes, before Angle attemped an Olympic Slam on Hart. He decided to try to dump him over the top rope with the slam, but Bret grabbed on to the ropes on his way out, we see Angle charge at Hart only to have Hart drop down with the top rope sending Angle up and over. Our next images are of Bret Hart crumbled in the middle of the ring clenching The WWF Title. Then his celebration with Davey Boy and Owen. We are finally taken live inside the arena where fans are going nuts, and the music of Bret Hart hits and the crowd goes wild.

-Bret Hart made his way to the ring with The WWF Title strapped around his waist to a huge pop. Bret got in the ring and talked about how it was the most difficult match of his life. Drawing 12 and having to eliminate 13 guys on his way to winning the rumble. Hart gives huge props to Kurt Angle, and says it could have went either way. Bret talks about Rowdy Pipers performance in the rumble. He says seeing as Piper had the second most eliminations it looks like it's going to be you and me headlining fall brawl, Hot Rod.

- The Hot Rod's music hits and the crowd pops. Hot Rod comes out and shakes the hand of Bret Hart and says he earned that title, and it's going to be a pleasure taking it from him at Fall Brawl. Hart smirks but tells him " We've been here before Hot Rod, and I have a feeling history is going to be repeat itself." Piper smiles and says " Times have changed, Hitman!" The crowd is loving Bret and Piper's back and forth.

- WWF President, Jesse Ventura makes his way out to the ring to a nice pop but what he has to say changes everything. Ventura says " I never said you'd be facing Hart at Fall Brawl, Piper! Where do you get off trying to make one of the biggest decisions of this company's first few weeks?" Piper looks perplexed. Bret interjects saying Ventura said who ever threw out the most men would get the title shot. Bret had the most at 13, but Piper came in second at 6. Ventura laughs and says " Exactly, Hitman I said who ever had the most, that was you! But you won the title, you simply can't face yourself! I never said ANYTHING about runner up to that number. This is a whole entirely different situation." Piper has a look of disbelief as the fans boo heavily. Hart is shaking his head as well. Ventura says " I have a few thoughts in mind, maybe I could have Kurt Angle face you for the gold seeing as he was the runner up of the rumble! Or maybe we could finally get that Shawn Michaels- Bret Hart rematch we have all been clamoring for all these years, Hart! How would you like that?" Piper points his finger in Ventura's chest and Jesse doesn't like that one bit. " You can't push me around Hot Rod, I'm not one of these push overs, I'm the body! You lay a finger on me and I'll put you in your place!" Bret tries to talk sense into Jesse saying Piper deserves the title shot. Ventura looks Piper up and down and shakes his head. "I'll be the one who makes that decision Bret, you just enjoy the next few weeks because at The Fall Brawl, you will be defending that title, against a worthy competitor!"
Chris Jericho def. Texas Tornado via 10:11 after a roll up.
The very first singles match in The NEW WWF had it's controversy. The crowd was excited as Jericho and Kerry Von Erich put on a solid match. Jericho went for a double axe handle off the top rope but Tornado caught him by the face, locking in the claw! Jericho went down to the mat kicking his feet but clearly had grabbed the ropes, not once, but twice. The official missed and called for a three count as Jericho's shoulders were on the mat. WWF President, Jesse Ventura again made his way to the ring and spoke with the official. It was announced that Ventura wasn't going to let these official be inept. He ruled the match be re started. Due to Jericho's rope grab. Von Erich was shouting at Ventura from the ring, but didn't pay attention to Jericho who rolled up Texas Tornado from behind for the three count! Tornado quickly got up as Jericho scampered out of the ring with his hands in the air, jumping up and down for joy. Ventura shrugged his shoulders and shouted at Von Erich " Be more aware of your surroundings, Kerry."
Jesse Ventura Announcement:
-After our first ad break, we see Jesse Ventura in the back with Mean Gene Okerlund. Okerlund says to Ventura, " I thought you were going to be a more behind the scenes President!?" Ventura looks annoyed. "Okerlund, don't you think I want to be? I've got guys trying to main pay per view main event matches, I've got idiot officials missing blatant rope breaks, I've got to grab the bull by the horns and make sure The WWF starts off on the right course!" Jesse says once the ship is righted he will step back. Ventura says he is going to talk to Vince and come up with the right contender for Bret at Fall Brawl.

-Jesse moves on to the next order of buisness. Jesse says now that we have crowned our WWF Champion, we need to crown another champion. Ventura says over the years in THe WWE, The once prestigous WWE Intercontinental Title has lost some of it's prestiege. Ventura promises that won't happen here in The WWF. Titles are what this is all about. Ventura says the WWF has developed a NEW Championship. That title is The WWF North American Championship, and that title will mean a few things. "If your The WWF North American Champion, your at the very least the number three man in the company, Okerlund. You'll be behind The WWF Champion and perhaps the number one contender, but you won't be any lower then that. You'll be getting the third highest paycheck guaranteed. Jesse announces a tournament will be held for The WWF North American Championship. " We're going to take a look, hold some polls, and vote on who we think were the 8 Greatest Intercontinental Champions of all time, and the 8 greatest United States Champions of all time! Then we're going to have a 16 man tournament to decide The WWF North American Champion! Like I said before Okerlund, this is all going to be by the book, the most deserving men will be the one's with the titles and the fattest pockets!"

- Scott Steiner's music hit and the crowd popped big. Steiner looked great in the rumble, even had people thinking he could very well win the whole thing. Steiner got into the ring and went on an absolute tirade.

-Steiner said he was the biggest man in this business literally and figuratively. Even though he had a hard time getting the words out of his mouth. Steiner said " I'm never taking a back seat again to some of these guys. I don't mind Bret Hart, he's a good dude, and deserves that title, but trust me when I tell you, Big Poppa Pump is gunning for you Hitman! I just have some business to take care of first!" Steiner went on to lay it out there. He challenged not only Hulk Hogan, but Ultimate Warrior, Ric Flair, and Randy Savage! " You old peices of trash can march yourselfs out to this ring right now, all at once, I don't care! I'll kick all your asses all over this place!" The crowd pops for Steiner's attitude.
- Suddenly we get the music of a legend. But not one of the legends Steiner was looking for. Steiner laughs and shakes his head as Funk comes walking out with a purpose. "Go back to the nursing home, old man!" Funk slides under the bottom rope and looks Steiner right in the eye. Funk tells Steiner that he considers it a slap in the face that he didn't challenge Funk to a match like he did the other four. Funk admits that his name may have never headlined Wrestle Mania,but he sure as hell put in just as many nights as Flair, and put on a hell of alot more entertaining matches then Hogan! " I'm sick and Tired of MY LEGACY being over looked in this business, son! By steroid abusin freak's like you!" The crowd lets out and "OHHHHHH" and Steiner goes to throw the first punch but Funk ducks and connects on Steiner! A referee runs down to the ring, and signals for the bell!
Terry Funk def. Scott Steiner in 11:45 by pinfall, with the help of some outside interference.
The Hardcore Icon went toe to toe with Steiner for the first few minutes of the contest, before Steiner's power over came the legend. Steiner threw Funk around like a rag doll. Suplex after suplex. Steiner shouted to the camera "I'm the f'n mayor of suplex city ,Bitch! Brock you're just workin' for the man!" Steiner continued to assault Funk until he threw him into the corner, but accidentally hit the official in the corner. Steiner put Funk in the Steiner recliner and there was no where to go.
-The pain was all over Funks face but two men jumped over the guard rail. It was Shane Douglas and Taz! We saw both men put on their best effort in the rumble. Taz wrapped up Steiner in the Tazmission and put him to sleep. For good measure, Douglas nailed him with the chair in the gut. They placed Funk over Steiner and woke up the ref who made the three count.
-After the match all three men stood over Steiner posing. Then Funk picked up Steiner and threw him out of the ring. Taz and Douglas went to the outside with Funk and threw Steiner on the announcers table. Funk climbed the table, and picked up Steiner. Funk nailed Steiner with a piledriver through the announcers table and the crowd in New York went nuts! Funk's music played as all three men headed to the locker room and officials, agents, and emt's ran out to check on The Big Bad Booty Daddy!
- We are taken backstage where a limosuine just pulls into the parking lot area. The driver gets out and runs around to the back to open the door for the one and only, Ric Flair! Flair looks at the camera that is now in his face and lets out a "wooooo" .

- Bobby Heenan says Flair as NEVER looked better. JR agrees and sets us up for our next match of the evening, hoping we'll hear from Naitch a little later on....
The Ultimate Warrior def. Lord Steven Regal in 4:55 via pinfall with a body splash!
The crowd was absolutley electric as The Ultimate Warrior ran down to the ring, and started pounding away on Lord Steven Regal right from the opening bell. Regal was defensless for the first two minutes of the contest before being clotheslines up and over the top rope. Regal try to regain his compusre but Warrior gave chase, and eventually got him back inside the ring. Regal put the boots to Warrior, but Warrior no sold the kicks, and nailed Regal with a clothesline. Regal was out of it of sorts, and Warrior took advantage with a Gorilla Press Slam , followed by the body splash. Warrior put his knees on Regal for the pin and the three count.
- The music of The SIXTEEN time World Heavyweight Champion hits as the crowd erupts. Nature Boy Ric Flair struts down to the ring as Warrior's celebration comes to a halt. Flair got in the ring and struts right into Warrior. " Don't try to go toe to toe with me, big man! WOOOO". Warrior pounded on his chest as Flair didn't back down. WWF officials came pouring out of the locker locker as Flair started to get heated, pointing his finger in the face of Warrior.

-Flair steps away from the chaos and grabs a microphone. "WARRIORRRRR, I was out here to actually give you your due, and you want to play tough guy with me? THE NATUREEE WOOOOOO BOY!?" The crowd is red hot. Flair laughs and says, " I don't think so brother!" Flair says he came out here to talk about how for the first time in a long time, Ric Flair, Hulk Hogan Randy Savage, and The Ultimate Warrior were all around. Flair said " I figured, this may not last very long." Flair suggested a match at Fall Brawl between the four men, and the crowed went nuts. Flair called it a FATAL FOUR WAY.

- Ventura came down to the ring and said every WWF superstar needed to learn that there is only one individual you can make matches happen and you're looking at him. Ventura tells Flair he has possible other plans for him at Fall Brawl. Ventura goes on to say he did notie Warrior tossing Hogan from the rumble, so he did want to make a match, a huge tag team match for fall brawl. The Mega Maniacs, The Ultimate Warrior and Randy Savage will team up to take on Hulk Hogan, and a partner of his choice! Ventura hints there might even bee a little extra incentive thrown in for the winners. Ventura turned to Flair and tells him not to go far. We get and advertisement breaking up the segment
-WWF President Jesse Ventura stood in the ring with Ric Flair. Ventura called out, Shawn Michaels, Kurt Angle, Roddy Piper, Stone Cold Steve Austin, Owen Hart, and Mr. Perfect! One by one with no music, these men came to the ring not too sure of what was going on.

-Ventura said when he sits back and looks at the career of Bret Hart he thinks right off the bat Shawn Michaels, and how that is probably match most people want to see. Ventura thinks about the Hart-Austin classics. He thinks about Bret-Perfect's classics. He thinks about the great matches between his brother and Bret. Ventura admits he thinks about Piper and Hart-s wrestlemania classic as well. He admits that a dream he has heard talked about for years would be Angle-Hart. Also considering Angle was the last man in the rumble with Hart, he should be out here.

- All six men realize they are being considered for the number one contender spot for The Hitman's newly won title. Ventura said I got it. He explains originally he was going to hold a six man free for all match tonight, but he's just changed his mind. Jesse " So let's do this, I can very easily add two more men from Bret Hart's past and off the top of my head here, I'm going to go with another family member, The British Bulldog, AND, ANNND , Yoko....or maybe Jerr.....nah, Let's make it the man who almost ended the career of The Hitman, BILL GOLDBERG! " The crowd erupts and Ventura says, tonight they are going to get two of those matches of the way, he looks around and says Flair- Owen and Bulldog- Goldberg.....TONIGHT!"

-All six men in the ring are fired up and we have ourselves a number one contender's tournament about to take place!
The Hitman Hart Historical Number One Contendership Tournament

"Rowdy" Roddy Piper vs Steve Austin
Shawn Michaels vs Kurt Angle
Ric Flair vs Owen Hart
Bill Goldberg vs The British Bulldog

Dean Malenko def. CM Punk in 13:24 with a powerbomb pin.

We may be in for two great matches coming up in this newly annonced number one contender's tournament, but this match was by far the match of the night. Both men went back and forth, used every counter they know to try and upstage the other. CM Punk was the obvious favorite heading into it, but Dean Malenko knew this was his chance to impress the fans and The WWF, and have a shot to stick around for some time. CM Punk went for a back body drop but Malenko put on the brakes, and connects with that power bomb pinning maneavur. He was able to hold on just long enough, and Punk kicked out RIGHT after the referee hit the mat for the three.

- Both men laid int he middle of the ring exhausted. When Malenko got up to his feet, CM Punk was up. Both men talking back and forth at the crowd gave them a complete standing ovation. They shook hands and brought it in for a pat on the back as the crowd popped. But then Punk suddenly kicked Malenko in the gut, Punk nailed Dean with a GTS in the middle of the ring as the crowd boo'd. Punk flipped off the fans and headed to the locker room area.
- Bret Hart was standing by in the locker room as the fans cheered when he appeared on the big screen. Mean Gene asked Bret about Jesse Ventura's shocking announcement. Bret says he gives Ventura credit for thinking outside of the box, even though he feels based on the words Ventura spoke last week, he truley feels that Rowdy Piper should have won it. Mean Gene asked Bret who he would rather face out of the 8 men. "I'm sick and tired of fighting with family,even though we are tighter then ever and I want nothing but success for my brother Owen and Davey. I just don't have it in me to fight them anymore. If I have to , I will and it'll be a five star classic. Bottom line is, I'd like to lock up with any one of those other six men, especially SHAWN MICHAELS!" Bret walks away as the crowd pops.
Goldberg def. The British Bulldog via pinfall in 15:13 after a spear.

What a fantastic match put on by Bill Goldberg and Davey Boy. Both men abttled back and forth showing their pure power and skill. Bulldog got Goldberg up on his shoulder for a power slam,but Goldberg elbowed Bulldog in the face getting himself free. Bulldog turned around and got put for The Jackhammer! BULLDOG KICKED OUT! The match continued for another five minutes. Goldberg connected on a spine buster out of no where. Goldberg slowly made his way to the corner, waiting for Davey Boy to get up to his feet. When he did, Goldberg almost cut him in half with a spear. He made the cover, and got the three count , moving on to the semi finals to face the winner of Owen and The Nature Boy!
Ric Flair def. Owen Hart in 11:04, via submission with a figure four leg lock.
Another great match here, and Owen Hart almost pulled out the victory. Ross said it Owen beat Flair, it would be similiar to Bret beating him to propel his career back in 92. However, it didn't happen. Flair managed to turn a sharpshooter attempt into a figure four leg lock, Owen last in the figure four for longer then expected but ultimately had no choice but to tap out.
After beating Owen. Flair picked him up for the mat, and he could be heard telling him "Hell of a match kid , HELLUVA a match!" Owen is limping and Flair tells him to "keep his head held high." Owen nods and limps out of the ring as the music of Ric Flair blairs through the arena. The crwod is hot for Flair as we fade out.
07-27-2015, 12:05 AM
(This post was last modified: 09-03-2015 05:37 PM by CorsRoc15.)
Post: #10
CorsRoc15


Wrestlemania Main Eventer.


Posts: 1,031
Joined: Oct 2013
Reputation: 4
Status: Offline
WLF Universe- Legends Wresting Alliance
September/Week 2/ 2015
From The Manhattan Center, in New York, New York
Live on The WWE Nework


WWF's Saturday Night Main Event opened up with it's famous familiar theme music and two legends sitting in the broadcast booth. Jim Ross and Bobby Heenan. Ross talks about the continuation tonight of the number one contendership tournament with a special focus on Bret Hart's rivals. Ross highlights Goldberg and Flair moving on last week, and tonight we see Kurt Angle take on HBK and Stone Cold battle with Rowdy Roddy Piper! Heenan adds in tonight we are also going to get the announcement of the 16 man tournament for The WWF's North American Championship! Ross also said there are rumors that both Hulk Hogan and Randy Savage are in the house!
Scheduled for One Fall
Brian Pillman vs. Jake Roberts
What a way to kick of SNME. The Ticking Time Bomb, The Raving Lunatic, The Loose Cannon, taking on perhaps the most evil, sneaky, sinister man in the history of The WWE. Jake Roberts. Roberts and Pillman went toe to toe for 12 minutes. The crowd loved it. The battle spilled out to the floor, and we saw Pillman pick up a chair, the official warned him, Pillman had the chair yanked out of his hand. Jake simply dropped the chair while kicking Pillman in the gut. Roberts hit The DDT on the outside of the ring, causing Pillman's head to smash against the chair. Blood was seent rickling between Pillman's head and the steel chair as Roberts slithered his way back into the ring. The official counted to ten, and Brian Pillman loses via count out here.



Winner:

Jake Roberts by countout in 12:45.
Roberts wasn't done. He walked over to his bag, as the crowd erupted. But Pillman was already starting to come to. Jake opens up the bag to reveal a large python inside! The crwowd goes wild, but Pillman gets right into the ring. Jake looks at Pillman curiously, and Pillman smiles. Pillman puckers up his lips. Jake slowly moves in with the snake, and Pillman plants a kiss right on top of the snakes head! Roberts eyes open up as wide as possible as Pillman's do the same. Pillman and Roberts seem to connect here as Pillman walks backwards and dips through the middle ropes as he heads towards the locker room. Jake holds the snake up high as we hit an advertisment.
We got backstage where Shawn Michaels is standing by, about to take on Kurt Angle for a chance to move on in this number one contender's tournament. Shawn says this means more to him then any of the other guys involved. Shawn says this incorporates all of his favorite pastimes into one. " Becoming The WWF Champion, and embarrassing, Bret Hart!" Shawn says Bret got lucky in the rumble, but when he wins this impromtu tournament, he'll have no problem beating Bret one on one once again. Shawn tells Bret to be careful what hie wishes for, because he might just get it!
Scheduled for One Fall
Qaurter Finals of The Hitman Hart Number One Contender's Tournament.
Kurt Angle vs. Shawn Michaels
Shawn Michaels looked cockier then ever. He layed across the top ropes as Angle made his way to the ring, with no smile, all intensity, ready to move on in this tournament. JR reminds us that Bret wants Shawn to win this thing to he can finally get his chance for revenge against HBK. Angle and Shawn traded off displays of speed, technical ability, and agility. Shawn tried to end the match early with Sweet Chin music but Angle caught the leg and put him in an ankle lock early. Shawn screamed and was luckily right by the ropes and Angle was forced to break the hold. Shawn took a break in the middle of the match, and Angle chased him around the ring until he finally got back into the ring, but Shawn was able to catch Angle with sweet chin music when Angle rushed into the ring. However, Angle kicked out!

Shawn got on his knees and couldn't believe it as he argued with the official. Shawn got to his feet and Angle picked up Shawn for an olympic slam! However, Shawn slipped out. He rolled up Angle from behind and the official dropped to the mat and counted the three! Shawn Michales defeated Kurt Angle after a roll up and quickly scampered out of the ring jumping in the air. Shawn couldn't believe it. Ross says we may be on a collision course for Hart-Micheal's for a fourth time.



Winner:

Shawn Michaels in 13:22 via pinfall after a roll up.
Vince McMahon Announcement:

Vince comes out to a huge cheer from the crowd. Vince says he hopes everyone is enjoying the second coming of The WWF, he sure is. Vince informs all of us that even though it's been a huge success. The WWF can't continue to pay guys like Hogan, Savage, Flair,Austin, Bret, Shawn by appearance. It's going to have to be a modest roster, with signed long term deals. It's whats best for business. Vince says he was in the arena tonight to hammer out a deal with now WWF Champion, Bret Hart. Vince says he is proud to announce that The WWF and Bret Hart come in fact come to terms on a long term deal that will keep The Hitman here for quite some time. Vince says he has already begun negotiations with some of the other talent and as signings becoming official he will announce them to the fans.
Hulk Hogan Shows Up:
Hulk Hogan comes charging through the curtains to a massive pop. Hogan storms to the ring and does his pose around the ring as Vince smiles watching The Hulkster. " Let me tell you something, Vinnie Mac!" Hogan goes on to tell Vince he wants to be here for the long haul too, brother! Hulk says the only problem is, he doesn't think The WWF is big enough for him, Savage, Flair, and The Warrior. Hogan specifically says The Warrior. Hulk Hogans " Vince, I'm here to issue you a challenge to The Warrior Brother! Fall Brawl, in three weeks! Hulk Hogan vs The Ultimate Warrior, the winner stays in The WWF, while loser goes ,well the loser goes where ever the hell he wants brother. It's a good old fashioned LOSER LEAVES TOWN MATCH BROTHER!" Vince says he wouldn't want to lose either Warrior or Hogan but agrees that it's unrealistic to afford both of them. Vince agree's to the match and says at Fall Brawl, Hulk Hogan vs The Ultimate Warrior, LOSER LEAVES TOWN!
From The Booth:

Jim Ross and Bobby Heenan can't believe what they have just heard. Fall Brawl, the very first WWF pay per view event of the rebirth is going to feature not only a World Title match with Bret Hart defending against either Stone Cold, Roddy Piper, Shawn Michaels, Bill Golbderg or Ric Flair...which either one of those men will make it a classic, BUT....Hulk Hogan will take on The Ultimate Warrior in a LOSER LEAVES TOWN MATCH! "He couldn't take it! Warrior tossed him out of the Rumble and Hogan's ego led him straight to this!" Heenan exclaimed! Ross said its the perfect storm of events with Vince admiting he has to hold a more reserved roster, and Hogan wanted to rid The WWF of The Warrior. Heenan calls Warrior "Hogan's kyrptonite."
Schedule For One Fall
Bam Bam Bigelow vs. Taz
Bam Bam Bigelow and Taz stood toe to toe before the bell rang, jawing with each other and nither backing down. The bell rang and neither man moved an inch before Bigelow shoved Taz down to the apron. This kicked off what turned out to be a 21 minute, epic battle that the fans were not expecting. Plenty of near falls in this one. As Bigelow connected with Greetings from Asbury Park, only to have Taz kick out. Taz almost caught Bigelow in The Taz Mission but Taz was able to smash backwards into the corner, forcing Taz to release his grip. Bigelow and Taz continued to battle back and forth, trading suplexes, headbutts and piledrivers.

Bigelow laid Taz out with a devastating clothesline. Bigelow scaled the top rope, and came crashing down, face first to the mat as Taz moved out of the way of a flying headbutt. Bigelow staggered to his feet, turned around and got caught in a Tazplex. Taz quickly crawled over to Bam Bam, got the three count, and then collapsed to the canvas. The sold out crowd were all on their feet at this unexpected classic!



Winner

: Taz by pinfall after a Taz Plex in 21:13



After The Match:

Taz was exhausted, as was Bigelow. Bam Bam got up to his feet at the same time as Taz. Both men looked around at the sold out crowd chanting their names. Bigelow takes a step towards Taz and extends his hand. Taz shakes his hand as the crowd pops. Just then, Jesse Ventura appears through the curtains. " Taz, Bam Bam, as you know there has been a recent change in the structure of The WWF. Vince and I think you gentlemen may have both just earned yourselves a couple of contracts!" The crowd pops. "However, Vince wants to officially sign the two of you, as our FIRST WWF Tag Team! Come back to the office and let's have ourselves a conversation!"
From The Booth:

Jr and Heenan hype the match they just saw. Heenan says he hasn't seen a match like that in a dogs age. JR says Heenan is a dog. They talk about the two final matches of the night. We have World Champion, The Macho Man getting ready for in ring competition against Jim Neidhart. Heenan says why is the entire WWF made up of Harts? "That probably won't be for long, Bobby, the WWF are signing superstars and it's going to give us a set roster of all of our favorite superstars. Neidhart, Bulldog, even Owen they may not make the cut!" Then in the main event we have Steve Austin doing battle with Rowdy Piper and the winner moves on to face Shawn Michaels in the semi finals. We may finally get an Austin-Michaels rematch that we never got from WrestleMania 14!
Contract Signing:

We are taken backstage where a WWF Camera catches Mr. Perfect and Ravishing Rick Rude walking out of the office of Vince McMahon. Jesse Ventura is right behind them. Ventura see's the camera and tells Perfect and Rick to hold up. " We all know that Minnesota produces nothing but the best athletes in the entire world, that's Vince and myself knew we had to make sure that Mr. Perfect and Rick Rude got locked up to a couple of lucrative deals! Rick, and Curt welcome aboard gentlemen!" Perfect and Rude shake Ventura's hand. We get back ringsid where Bobby Heenan is all smiles. " I can't tell you how happy that makes me , Ross!" JR says he didn't know that Bobby was still friendly with Curt and Rick. Bobby tells Ross they attend holidays at each others home. " You just wait Ross, I'm sure my phone will be ringing any second asking me to join forces with them." Ross jokes about hoping that is true, that way he won't have to deal with Heenan anymore.
Scheduled For One Fall
"Macho Man" Randy Savage vs Diamond Dallas Page
Our Next match of the night is the return of The Macho Man. It was originally supposed to be Jim Niedhart locking up with Savage but there was a last minute change due to travel issues. DDP and Savage have a history of putting it all on the line in their matches and this was no different. From the start of the match, DDP blind sided Savage from behind in attempt to get the upper hand. Savage did turn the tide of the match with the use of some vicious right hands. The two men continued to control portions of the match, until DDP hit a Diamond Cutter out of no where. He went for the cover, but Savage kicked out. DDP couldn't believe. Then The Macho Man connected with a diamond cutter! The fans went nuts, Savage went for the cover and only got a count of two. Savage picked up DDP and nailed a big time body slam. He then scaled the top rope for The Flying Elbow drop and got the three count.



Winner:

Randy Savage in 13:21 via pinfall after a Flying Elbow Drop.
After The Match:

Savage celebrated in the ring posing on the top turnbuckle. Hen he leaped off the turnbuckle he was face to face with Bam Bam Bigelow and Taz. Savage put his hands up as if to say what are you two doing here, but they both charged at Savage. The two men plumbed Savage and DDP got up to join in on the fun. They held down Savage as bigelow went to the top rope and hit a Flying Headbutt! The crowd boo'd heavily as Tazz and Bigelow are making their presence felt on this edition of Saturday Night's Main Event.
From The Booth:

JR is trying to figure out why Taz and Bigelow came out here to attack Savage. Heenan thinks its all about making their mark here in The WWF. They might have officially signed that contract as the first WWF Tag Team, and maybe they are forming an alliance with DDP. Who is from Jersey, as is Bigelow. Ross says good point..."That's why they all me, The Brain." Ross rolls his eyes, and hypes the main event coming up next! Stone Cold Steve Austin taking on Roddy Piper!
Scheduled for One Fall
Quarter Finals of The Hitman Hart Number One Contender Tournament
"Stone Cold" Steve Austin vs "Rowdy" Roddy Piper
The original unpredictable superstar of The WWF, Roddy Piper made his way out to a nice pop,but the sound of glass shattering sent the crowd into a frenzy. Austin and Piper came nose to nose to start the match and Austin mouths' " It's about time I whip that ass, son!" The crowd can't make out what he says but erupts when it happens. Piper beings yelling back and then the rights and lefts start flying between these two superstars. Ross points out the loser of this could very well end up OUT of The WWF.

The first big move of this match came when Piper charged at Austina nd Ausitn picked him up, dropping him across the top rope. A Stun Gun from Austin, shades of his Stunning Steve days. Piper's throat hit right on the ropes and was having a hard time getting air into the lungs after this move. Austin went from there using his stomps, and kicks to keep Piper on the ground Following it up with a ice elbow drop to the head of Piper. Piper tried to go to the outside for a break but Austin followed him, throwing him into the steel barricade. When the match got back into the ring, Piper was able to slightly change the tide.

Piper was now in control, and nailed two clothesliens that dropped Stone Cold hard. Piper even locked Austin in a half crab for a minute or two, before Austin reached the ropes. Piper then tried to lock on the sleeper hold but Austin was able to evade the hold. After catching The Hot Rod with a spine buster. Austin decided it was time for a stunner. As Austin waited for Piper to get to his feet. Scott Hall and Kevin Nash came running down to the ring. The official went right to hall who was on the ring apron. Austin looked annoyed and didn't see Kevin Nash get into the ring from behind. Austin turned around to a kick to the gut, then a power bomb from Kevin Nash! Nash picked up Piper and placed him on top of Austin.
The official turned around , saw the pinfall and made the three count! The crowd boo'd heavily. Nash and Hall, walked up to the curtain where Shawn Michaels was standing with an ear to ear smile on his face. He high fives Nash and Hall as Piper rolled out of the ring with his hand in the air. Austin was still on the ground, in pain. Jim Ross is irate and Heenan says " Shawn must have a plan, he must have thought Austin was the bigger threat!" SNME goes off the air with Austin, Nash and Hall standing tall at the top of the entrance.
User(s) browsing this thread: 1 Guest(s)