OPENING: Austin vs SDB
05-27-2015, 05:58 AM
Post: #1
Gordon Gekko


Hall of Famer


Posts: 4,663
Joined: Apr 2011
Reputation: 6
Status: Offline
OPENING: Austin vs SDB
OPENING CONTEST
Stunning Steve Austin vs Steam Diesel Black
Paul E Dangerously expands his clientele as the Stunning One makes his return to the WLF.
Will the barrel-chested powerhouse win big on this Memorial Day episode of Prime Time?
Referee:

Charles Robinson


Announcers:

Gorilla Monsoon and Jesse The Body Ventura
---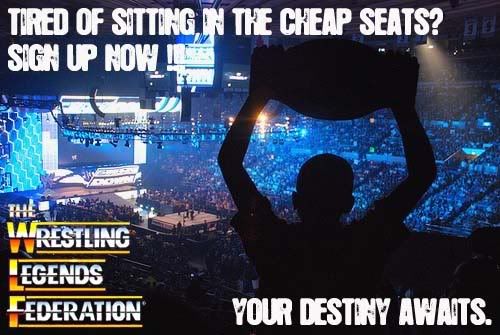 05-28-2015, 11:45 PM
Post: #2
jackspicer


Jack Spicer


Posts: 42
Joined: Feb 2015
Reputation: 0
Status: Offline
OPENING: Austin vs SDB
Paul E Dangerously:

I Am Paul Eee Dangerously AND You Are About… To Enter The Danger Zone.
Paul E.: Welcome to the Dangerzone! We here would love to welcome back the ONE TRUE Champion! The one who will stun you into submission. Here we are not a faction, not a line up. We are not a stable, not an army. We are a collection of smart and educated business men and I found the last piece of this collection to take it to the top!
Gorilla Monsoon: Listen to this guy he comes out here week after week thinking he's the king of the world.
Jessie: No, if you listen closely all he is saying is he is bringing together like minded individuals to create something we have never seen before.
Gorilla: Yeah something that could lead us down a path we dare not take!
Paul E.: I work due diligently week after week to bring you the best of the best wrestlers, the cream of the crop, the crème de la crème and so on and so forth. There has been a hole here in the WLF and I intend to make a crater with this bombshell I just laid upon this wrestling establishment.
Gorilla: Big talk from such a small man.
Jessie: Gorilla hear the guy out; I like where he is going with this. It's not like you have anything interesting to say most of the time. HA HA HA
Paul E.: I worked tirelessly to and made every phone call I could, pulled every string, and asked every favor I had left to bring this man here to you today. Are you ready to step in the ring with the worlds greatest athlete? I an't gonna lie, I an't gonna cry, I'm gonna let you in on a little secret...... WE WILL TAKE IT! ALL OF IT! No matter what it is he is here to take it home with him. He has been a champion with other promotions and traveled all over this country but today... today is the first day of the rest of your lives. This is the day when you get to see the revival of wrestling. The rejuvenation of the sport that has been waiting in the wings. Without further adieu SUNNNNNNING STEVE AUSTIN!!!!!
Austin: What he said was all true. I am not a man of many words but when I speak even the gods stop to listen. And all that I have to say right now is that I AM HERE and I will take it all home!!!!
Gorilla: Like he said man of few words but I know when he has something to say I'll be listening with both ears.
Jesse: Does that mean you'll have those belltones turned all the way up? On a serious note I know that this guy is here to make an impact and will run over anyone who gets in his way.
05-29-2015, 06:25 AM
Post: #3
Phatboii


nWo 69 Star General


Posts: 868
Joined: Jun 2014
Reputation: 1
Status: Offline
OPENING: Austin vs SDB
The Camera pans around the stadium and then back to Gorilla Monsoon and Jesse Ventura at ringside. They close in on the Dynamic duo of sports entertainment announcing.

Gorilla- However Jess, he does have an adversary here tonight that is no push over.

Jess- Well he certainly got pushed over at WrestleMania!

Gorilla- We both know on any given night, anything can happen. That is all the reason for him to not be in such a great mood tonight as he faces Stunning Steve.

Jess- Steam Diesel Black is nothing but an over grown, pig headed, blowhard Monsoon. Its about time you started realizing that.

Gorilla- But the fans Jess.......the fans dont think so!

Jess- Well i think-

Jesse Ventura is interrupted and the crowd goes wild. The camera pans out so that you see SDB standing behind Ventura with his hand on his shoulder. SDB grabs a microphone.

SDB- What do you think Ventura? Well Come on now, you have no problem any other time running your mouth, tell me what you think?

Jesse stands from his seat, hands up, shaking his head as if to deny what he has said.

SDB- Well boy pick up a Mic, no one can hear you!

The crowd cheers and laughs. Jesse picks a Microphone up off the announce table.

Jesse- I said, i didnt mean any offense SDB.

SDB- Oh....you didnt mean any offense did ya. Hmmmm, because just a second ago i couldve swore you said i was a.....a blowhard right, a pig headed blowhard. Did ya change your tune real quick. I believe so. Now look, i get it, your an a$$.......

The crowd roars.

SDB- However if i keep hearing blatant insults from you, about me. We are gonna have a problem. I dont care how old you are, how long you been out the ring, we will have a problem. Got that Jesse!

SDB then pushes Jesse back into his seat by Gorilla Monsoon. The crowd laughs and roars. Jesse doesn ot seem very happy about it all.

Gorilla- Well Jess, I-

Jess-Shut it Monsoon, i oughta put him under the jail. Thats assault!

SDB rolls into the ring and raises his hands. He looks back at Jess and Winks. Jesse turns beat red and SDB awaits the beginning of the match.
---
SDB will be back....someday
05-29-2015, 02:22 PM
Post: #4
jackspicer


Jack Spicer


Posts: 42
Joined: Feb 2015
Reputation: 0
Status: Offline
OPENING: Austin vs SDB
*Paul E. Steps out form the back and grabs a mic from a stage hand.
Paul E.: Well Well Well, ladies and gentlemen what a big man with such a small.......... EGO. It takes sooooo much guts to make fun of a couple of old timers who could not hold a candle to any one in the ring now. And I know I'm not scared of fat guys throwing their weight around I went toe to toe with Captain Lou Albino a few times and I am still here to talk about it. But I digress I'm not here for me and frankly I am not a wrestler. You now have to bare witness to greatness and allow yourself to be in awe of The Stunning One.
Steve: Thanks Paul I can take this from here no problem.
*Steve starts walking towards the ring.
Steve: Now you see that big phone there in Paul's hand? That's just so we can be ready to call the ambulance when I get finished with you! You will feel nothing you have before and that is a beating of a lifetime that you will never forget. You know what they say if you see me fighting a bear you had better jump in and help the bear. Now lets do this big boy the bigger they are the harder they fall.
Steve goes to the corners and shows the fans just what he thinks of them and comes down face to face with SDB.
05-29-2015, 06:55 PM
Post: #5
CorsRoc15


Wrestlemania Main Eventer.


Posts: 1,031
Joined: Oct 2013
Reputation: 4
Status: Offline
OPENING: Austin vs SDB
Gorilla Monsoon:

Here we go folks, the opening match and what a way to kick off Prime Time! Stunning Steve back here in The WLF, and what a formidable opponent he has....
Jesse Ventura:

Formidable? Monsoon, the only thing that is formidable about Seat Diesel are the craters he created in the groud when he takes a step!
Gorilla Monsoon:

Oh come on now Jess! Stunning Steve is looking straight across the ring at Steam Diesel!
Before the bell rings, a loud interruption is heard and it is...
Gorilla Monsoon:

WAIT JUST A MINUTE! WAIT JUST A MINUTE! What is this?
Jesse Ventura:

Oh don't even tell me, Monsoon! This can't be happening. This is not the way I wanted to start out tonight!
Gorilla Monsoon:

Folks, the very familiar music of Bret " Hit Man" Hart is playing right now, and has the attention of every individual in this arena!
Jesse Ventura:

The music is playing, but I don't see The Hitman anywhere. Bret's not even under a WLF contract, I don't believe. He wasn't advertised. This has to be some sort of a rib on Austin!
Gorilla Monsoon:

That music is defining, especially mixed with the ovation from this sold out crowd!
Gorilla Monsoon:

OH AND IT IS! IT IS! IT IS INDEEEED THE HITMAN, JESS! IS HE A SIGHT FOR SORE EYES, OR WHAT? Bret Hart just came walking through those curtains, and Stunning Steve Austin is absolutely beside himself!
Jesse Ventura:

Well can you blame him, Monsoon?! The Hitman's been stealing the spot light from his younger brother Owen for years, and now on this night, in the opening match he is walking out here to steal the spotlight from Stunning Steve! I hope he's not out here to join us!
Gorilla Monsoon:

Well Jess, as much as I'd like to see him shut you up, he is in full wrestling gear and I think he plans on getting in on the action here on Prime Time! What a way to kick things off folks, you never know what you're going to get when you tune in to The WLF! Goodness gracious!
Bret Hart tags hands with all the fans as he makes his way down to the ring. Steam Diesel black has stepped out of the ring, almost respectfully giving Bret some space, but Stunning Steve remains right in the middle as Bret enters the ring. Bret smirks as Steve and asks for a microphone.
Bret Hart:

Hey Steve......good to see you. [Crowd pops.] I'll going to make this short and sweet. I don't think the ink on my WLF contract is even dry yet, but WLF President Antonio Banks felt that this match needed to be spiced up, just a little bit! So it's my pleasure to do the honors of being the guy to spice it up! Stunning Steve, Steam Diesel, weather you like it not, you just got involved in a Triple Threat Match!
The crowd erupts and Bret turns to take off his jacket but is immediately attacked by Stunning Steve from behind!
Gorilla Monsoon:

Austin just leveled The Hitman from behind! This thing is, i guess, officially under way! Austin putting the boots to Bret as Steam Diesel rolls back into the ring!
Jesse Ventura:

How is this even official? How do we know we can even trust The Hitman! He has lied countless times, every day of his life! I didn't hear the president come out here and make this a triple threat match! As far as I'm concerned this is an unsanctioned contest!
Gorilla Monsoon:

I don't think out esteemed President would sit in the back and let The Hitman walk out here and blatantly lie about something he ordered! Steam Diesel from behind on Austin now! Stunning Steve with a taste of his own medicine!
Steam Diesel begins to pound away on Stunning Steve as Bret gets back up to one knee, recovering from his attack from behind. Steam Diesel grabs the head of Steve and drives it face first in the turnbuckle! Austin shakes it off and kicks SDB right in the mid sectiion. But SDB doesn't even feel it. He grabs Austin again from behind the head and rams it harder into the turnbuckle! This time Austin propels backwards to the canvas. SDB drops an BIG elbow drop on the chest of Austin and goes for an early pin but Austin gets a shoulder up at the one count! As Steam Diesel gets to his feet, Bret marches in and catches him with a headbutt! SDB falls down on his backside, and Bret puts him on his back with a kick to the face. Bret follows it up with an elbow drop of his own, but instead of to the chest, right between the eyes. Bret now with a quick cover but SDB throws Bret off, in a pressing fashion and Bret rolls between the first and second ropes to the ringside floor!
Jesse Ventura:

Haha! It looks to me like The Hitman is a little bit rusty! Get in there Austin!
Gorilla Monsoon:

Austin taking advantage of Steam Diesel who is still trying to get off his back. Austin with several big time kicks to the midsection. Jess, as a big guy myself I can attest to how difficult it can be to get yourself off the canvas when things start moving in that ring!
05-29-2015, 07:07 PM
(This post was last modified: 05-29-2015 07:36 PM by Phatboii.)
Post: #6
Phatboii


nWo 69 Star General


Posts: 868
Joined: Jun 2014
Reputation: 1
Status: Offline
OPENING: Austin vs SDB
SDB finally pushes Steve back after he catches a kick in mid air. Steve Stumbles back just to meet a big clothesline SDB, almost sending him end over end.

Gorilla- What an Impact Jess! SDB taking control here as Bret is making his way back into the ring.

Jess- This is chaos Monsoon!

Gorilla- No this is Prime time at its best. OH AND THERE RUNS BRET LOOKING TO CATCH SDB FROM BEHIND! WOW NOT THIS TIME, TO QUICK FOR THE EXCELLENCE OF EXECUTION AS SDB GETS A BIG GERMAN SUPLEX TO THE HITMAN!

Jess- Thats the first time ive ever seen any athleticism from the big man.

Gorilla- Oh would you hush!

SDB stands up with both Bret down and Steve down. The Crowd is roaring for this matchup so far. SDB goes over to Bret and pulls him up by his hair. The Referee scolds him but he still brings Bret to his feet. He gains control of the head and....

Gorilla- BIG DDT ON THE HITMAN!

Jess- Yeah He deserves it.

Gorilla- Im not sure if he deserves it, but the crowd is loving this!

Steve Stands up to go and catch SDB with an elbow to the back of the head. SDB goes down and Steve dosent let up.

Gorilla- Steve Austin sending some major kicks and stomps to a downed SDB. Tearing that back apart.

Jess- Yes he is hitting crucial points of the spine there. He keeps at it , SDB will be done in no time Monsoon.

Steve sends a pointed elbow to the center of the back, but misses. SDB rolls out from under and comes straight up with a superman punch like maneuver. It almost brings Stunning Steve into the air.

Gorilla- WOW WHAT A PUNCH FROM SDB. STEVE IS SPRAWLED OUT BACK THERE LIKE HE JUST GOT HIT BY A TRUCK.

Jess- SHAKE IT OFF STEVE!

SDB Stands off his knee and puts his right arm behind his back, to maybe stretch it. You can tell it hurts. However he sees his oppourtunity and goes for a pin on Austin. Dosent even get to one before a newly rejuvenated Bret Hart comes out of nowhere and breaks it up.

Gorilla- HART TO STOP THE COUNT, WOW!
---
SDB will be back....someday
05-29-2015, 11:23 PM
Post: #7
jackspicer


Jack Spicer


Posts: 42
Joined: Feb 2015
Reputation: 0
Status: Offline
OPENING: Austin vs SDB
Steve rolls out of the ring to catch his breath and talk a minute with Paul E. They are looking like they might just walk right out of this place.

Paul E.: We didn't sign up for that kind of travesty. This this this is utterly outrageous!

They start walking back up the ramp when they stop again. A sly smile crept on Austin's face when Paul was talking again.

Gorilla: What in the world are they thinking? Is he going to just walk out of his first match?

Jessie: But wait look how there is a new look on Austins face as Paul is likely saying there is no DQ in a triple threat match.

Gorilla: Oh NO! This can only get bad from here as the mastermind is getting the Stunning One to turn back to the ring and survey what can only be the hatching of a dangerous plan.

Jessie: Please Gorilla leave the puns to me you just don't sound right trying to be funny or smart.

SDB starts to get up as Bret is looking on staring at Austin. SDB charges full speed at Bret head first into his back. Bret reels in pain as he gets spun around and thrown for an irish whip and runs into SDB and falls back.

Austin runs to the bell and grabs it from the side table. Steve runs in for a gut check with the bell on SDB and again to his arm that was already hurting. This causes the big man to go to the ground where Steve continues to stomp a mud hole in him. Robinson pulls him back but Austin yells there is no damn 5 count and pushes him away.

Bret sees the opportunity and runs toward Austin and whips him into the opposite corner. He gets on the second turn belt and starts hammering away.

The crowd starts counting with the hits.... 5, 6, 7, 8 and then Steve picks him up and throws him down.

Gorilla: This is getting serious in here. You can't even catch your breath with all of this action.

Jessie: You got that right they are just beating the Hell out of each other.

Jessie: What's this? is Steve trying to put on the SHARPSHOOTER?

Gorilla: No that looks more like Flairs' figure four.

As Paul E. gets to the announcers table

Paul E.: That is called Hollywood and Vine its more like a standing figure four but much much better.

Steve is holding onto the ropes to gain more leverage on Bret's legs. As they are locked up SDB starts rumbling in the corner where he was stomped straight through the ground.

Jessie: The big guy there looks a big woosy from getting it handed to him a little bit ago.

Paul E.: Someone should ask him if he knows where he is and don't forget to tell him where it all came from.

Gorilla: You just shut it Paul you have no business being here with us no one asked you to be here.

You can see Bret in visible pain with that hold. The crowd is going nuts as Steve shows Bret what he thinks of him as he lets go of the hold and pulls him to the bottom of the turn buckle and pulls his legs from both sides.

Jessie: Ok someone make a wish Steve just pulled that turkey apart.

Gorilla: That should just be outlawed there is no reason a man should go through that kind of pain.

Paul E.: This is what I was trying to tell you he is here to make a statement no matter who his opponent is!

SDB looks around the ring and rolls out to find a chair and sneaks behind Steve and hits him straight in the back. Steve goes down as Bret is finally let go and is writhing in pain rolling around in the ring.

Steve tries to stand but gets hit with another shot to the back. SDB starts playing to the fans and hold that chair up high. Steve takes this chance to grab the stairs and run into SDB. Steve then goes to the ropes and comes off the second rope with a pointed elbow drop straight to SDB forehead.

Gorilla: Oh my God! Look he's busted wide open now!

Jessie: He's flowing more than the Mississippi River!

Paul E.: Like Steve said the bigger they are the harder they fall. HA HA HA

Steve turns his sights to Bret in the ring and continues to go after the legs with elbow drop over elbow drop. Bret looks like he is almost in tears in there. It looks like he is pleading with Steve to stop. And here it is he turns him over into the SHARPSHOOTER and the crowd goes nuts.

Paul E.: Mess with the bull and you get the horns.

Gorilla: I can't believe he is stealing that move. This cannot be right!

Jessie: Oh dear God! Bret is not looking good here folks.
05-30-2015, 06:15 PM
(This post was last modified: 05-30-2015 11:01 PM by CorsRoc15.)
Post: #8
CorsRoc15


Wrestlemania Main Eventer.


Posts: 1,031
Joined: Oct 2013
Reputation: 4
Status: Offline
OPENING: Austin vs SDB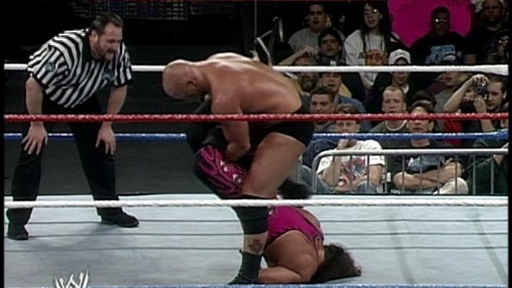 Gorilla Monsoon:

Stunning Steve has the Hitman locked in his own submission hold! Austin has Hart in The Sharpshooter! I don't think he has it synched in though! Not the way The Hitman does it!
Jesse Ventura:

Gorilla, it may not be the way Hart does it, but it's stille ffective and after that Hollywood and Vine we saw from Austin, I don't think Bret is going to be able to take much more of it!
Gorilla Monsoon:

I think we need someone to check on Steam Diesel in there, that is a lot of blood flowing from the big guys cranium!
Austin continues to sit back on the Hitman as he yells out, Bret extending his hand towards the rope, but to no avail. Charles Robinson is asking Bret if he wants to give up and Bret rapidly shaking his head from side to side.
Jesse Ventura:

It's just a mater of time now, Gorilla. Bret Hart's sneaky return to The WLF is going to b effectively ruined! Serves him right too! Trying to steal the lime light from Stunning Steve!
Gorilla Monsoon:

Steal the lime light? The Hitman was put into this match by the WLF president! Let me tell you in The WLF you gotta' be ready for anything and everything! Is Austin can't handle this, then he won't be able to handle anything!
Austin continues to wrench in the Sharpshooter as Paul E laughs on the outside. Steam Diesel is sitting up now as the blood runs over his face, and into his mouth. As Austin laughs and pulls back, The Hitman is starting to attempt something here, but what is it...
Gorilla Monsoon:

Bret looks like he's got his arms into a position to make something happen here! He's trying to tug on Austin's legs and throw his weight off blanace!
Jesse Ventura:

Never gonna' happen, Monsoon! Hitman's cooked, all done, ring the bell, this one's over!
Gorilla Monsoon:

Bret look's to have a hold on Stunning Steve's ankles, and he yanks back on them! It sends Austin onto the mat, and Bret's still got a hold of Austin's legs! Bret's going for the sharpshooter! How many times do you think he's pulled this off in the dungeon, Jess?!
Jesse Ventura:

This isn't the Dungeon, Monsoon! And that ain't Stu Hart, it's Stunning Steve there's a big difference!
Bret Hart is able to revesrse Austin's Shapshooter into a sharpshooter of his own. Bret has it locked in and now it's Austin who is writhing in pain! Austin is yelling and banging on the mat, and Paul E is screaming at him to get to the ropes! Bret pulls back on the legs of Austin to really add some pressure, but as Bret does so. He feels the hands of Steam Diesel around his head! Steam Diesel grabs The Hitman by his hair, and yanks him right off of Stunning Steve! Steam Diesel continues with his momentum and throws The Hitman up and over the top rope to the floor!
Gorilla Monsoon:

Steam Diesel with the save! The Hitman was only able to keep that sharpshooter locked in for a limited amount of time before the big guy ran interference there. Smart move on the part of SDB, if Austin tapped, Hart would have won the match without Steam Diesel having been beating.
Jesse Ventura:

Watch your mouth, Gorilla! Steam Diesel would never have tapped out to the sharpshooter!
Gorilla Monsoon:

I know he wouldn't I said Stunning Steve would have tapped...Pay attention Jess!
Jesse Ventura:

I am, Monsoon! I just can't keep it together! I'm so mad for Austin! These fans are going nuts! This is truly a miscarriage of justice! As some idiot likes to say!
Stunning Steve gets pulled up to his feet by Steam Diesel,and shoved into the ropes, Steam Diesel throws Austin with an irish whip into the ropes, and Austin runs back at him. Steam Diesel lifts his foot, and Austin runs face first into the foot of SDB. Blood still running down Black's face. Steam Diesel follows the Big Boot with a big leg drop attempt, but Austin rolls out of the way! Austin quickly gets up to his feet, as does SDB and again SDB grabs onto Austin, throwing him into the ropes! Austin hits the ropes but, NO! Bret Hart pulls the top rope down and Stunning Steve goes tumbling up and over! Austin manages to land on his feet and both men begin exchanging blows!
Gorilla Monsoon:

Hitman pulled on that top rope with some bad intentions, but Stunning Steve manages to stay on his two feet!
Jesse Ventura:

That's right, Monsoon! Give Stunning Steve some credit! Cat like reflexes on that and now he is taking it to The Hitman!
Gorilla Monsoon:

I wouldn't say that, Both men are exchanging right hands! I don't trust Paul E, though...he seems to be sneaking up on The Hitman....
Jesse Ventura:

HAHA! Phone call for you Bret! You're going to have to speak up! I think it's your old man! HAHA!
Gorilla Monsoon:

PAUL E JUST NAILED THE HITMAN IN THE BACK OF THE HEAD WITH THAT HUGE CELL PHONE!!
Jesse Ventura:

I told you he had a phone call, he was just trying to do the right thing and let Bret talk to the old man, Gorilla!
Bret is now down as Austin is stomping away on the back of the head of The Hitman! Austin picks up Bret, and is about to give him a stun gun on the edge of the canvas, but before he can do that. A long arm with a massive hand attached reaches over the top rope and literally grabs Austin by his nostrils! Austin not wanting to feel some serious pain goes with the momentum of the arm, and Steam Diesel drags Stunning Steve onto the edge of the canvas. SDB grabs Austin by the neck and chokeslams him INTO the ring!
Gorilla Monsoon:

BIG CHOKE SLAME! Steam Diesel leaves his arm acorss the neck of Austin, he's going for a cover! Get into position ref!
Jesse Ventura:

TWO! ONLY A TWO! Stunning Steve was too close to the ropes, and was smart enough to get his foot on the ropes!
Gorilla Monsoon:

Or as you sometimes like to refer to it, Jess, taking the easy way out!
Jesse Ventura:

Monsoon, you better stop calling me a liar, I don't think I've ever said such a thing! It's the smart move, and Stunning Steve is clearly the most intelligent guy in this match, and ahead on points if you're keeping track!
Gorilla Monsoon:

We don't score on points here Jess! Whoever has his hand raised, by hook or by crook in the decalred the winner, so you can keep your points to yourself!
Jesse Ventura:

I wish you'd keep your voice to yourself, Monsoon!
Steam Diesel uses all of his weight to push off Austin and get to his feet. He grab Austin again lifting him up and now slamming him down with a big time body slam. Bret is now getting to his feet and sliding in under the bottom rope. Steam Diesel catches Bret coming in and Bret throws up and his hands and says " Hey wait a second, big guy!"
Gorilla Monsoon:

Bret looks like he doesn't want any piece of the big guy!
Jesse Ventura:

That's because he's a coward, Monsoon!
Gorilla Monsoon:

Bret looks to be negotiating with him. It looks like Steam Diesel likes what he has to say, the crowd is liking this and Jess...so am I!
Jesse Ventura:

Are they about to team up on Austin?
Stunning Steve is getting up to one knee but Steam Diesel hits him with a forearm to the back of the head/neck area. Austin is instructing Diesel to hoist him up! Steam Diesel picks up Austin!
Gorilla Monsoon:

Hey! This looks familiar to me, Jess!
Jesse Ventura:

NO! Come on! This is exactly what I've been talking about, don't side with Canada Steam Diesel!
.
Steam Diesel has Austin up in the air, but Bret asks him to bend down a little. Diesel does so, lowering Austin! Bret hits the ropes, and springs back and takes out Stunning Steve! HART ATTACK with the combination of Bret Hart and Steam Diesel! However, Bret quickly goes for a sneaky cover, only to have Steam Diesel grab Bret by the hair and yank him off!
Jesse Ventura:

I knew it, Monsoon! You can never trust a Canadian!
Gorilla Monsoon:

Bret talked Steam Diesel into double teaming Stunning Steve and almost walked away with the three count!
Steam Diesel is now very unhappy with The Hitman. He backs Bret until is out of room in the corner. Steam Diesel then charges in on The Hitman and crushes him with a big splash! Bret slumps down into a seated position with his head resting against the second turnbuckle and Steam Diesel takes advantage of it, by crushing his head against the turnbuckle with the side of his knee. Bret now falls completely to the mat, and Steam Diesel drives his foot into the throat of Bret Hart!
Jesse Ventura:

I think Bret just awoke a sleeping giant! Glad the big man is finally angry at the right guy! This was one on one contest, and Hart came in here and messed it all up!
Gorilla Monsoon:

Bret Hart is just doing his job, which according to him and WLF President, is to be a WLF superstar. As Bret said the ink on the contract was just drying!
Jesse Ventura:

Well I hope Bret gave that pen to his wife, becuase she's going to be signing his death certificate pretty sure if Steam Diesel doesn't get off his neck!
Gorilla Monsoon:

Good pick up, Jess! Charles Robinson yelling in the face of Steam Diesel to get off the neck of Bret Hart!
Steam Diesel finally does just that. As Steam Diesel turns around Austin comes sliding in from behind, but avoids Diesel gets right to the canvas, and starts pounding away on the head of Bret Hart. Stunning Steve yelling at Bret has he connects with some heavy hits, Bret covers up to try and prevent further damage!
Jesse Ventura:

Bret's lucky this is a real sport, if this was the UFC Robinson would stop this thing. I don't think Bret can defend himself right now after that blow to the head by Steam Diesel!
Gorilla Monsoon:

That's why The WLF is better then MMA, Jess. Bret can make up a come back, he's done it before, and i think it's safe to say he'll do it again!
Jesse Ventura:

Not in this match up it's not...
05-31-2015, 10:38 PM
Post: #9
Phatboii


nWo 69 Star General


Posts: 868
Joined: Jun 2014
Reputation: 1
Status: Offline
OPENING: Austin vs SDB
Stunning Steve continues to beat the holy hell out of Bret in the corner while SDB watches for a few moments. Standing behind the ordeal. Charles Robinson finally steps in once again and gets Steve off of The Hitman.

Gorilla- Steve now standing, SDB right behind him, waiting for Austin to turn around. HE TURNS, SDB HAS HIM UP ON HIS SHOULDER NOW, HE ROLLS HIM OUT AND GRABS HIM BY THE NECK TO DRAG HIM HEAD FIRST TO THE MAT. WOW I believe thats the Diesel Cutter!

Jess- Dosent Make a difference. Steve is fine.

Paul E is screaming at Austin to get up but Austin dosent seem responsive. SDB for the cover.

ONE!

TWO!

Gorilla- Oh and it was close, but Bret got in there just in time to fall on the back of SDB and break the count. Wow what a match.

SDB is quick to stand as is the stumbling Bret Hart, still trying to regain his bearings. SDB dosent miss a beat as hits him with a big double arm DDT.

Gorilla- DOUBLE ARM DDT, DOUBLE ARM DDT! WOW SDB IS FIRED UP, AND HES GOING FOR THE COVER ONCE AGAIN!

The ref slides back down into position to make the count.


ONE


TWO




TH-

Jess- Bret gotta shoulder up, wow these superstars are determined to open up prime time with a bang tonight!

Gorilla- Aint that the truth Jess. SDB trying to keep his cool as he gets up off the mat. Trying to determine what its gonna take to put these two down tonight.

At that moment Bret attempts to stand while pulling on the pant legs of the referee. Robinson puts all his attention on Bret while SDB is attempting to configure a plan. He wipes some of the crimson mask from his face before all of a sudden he lets out big yell. Austin had snuck up behind him and got him hard with a low blow. SDB falls to his knees, grasping at his lower area as Austin falls over as well, still suffering the effects of that Diesel Cutter. Bret finally gets to his feet and the ref turns around to see SDB and Austin both on the mat now. Bret seeing an oppoutunity locks the Sharpshooter in on SDB.

Gorilla- WHAT A TURN OF EVENTS, BRET IS UP NOW AND IN CONTROL, AS AUSTIN HIT SDB WITH A BIG LOW BLOW. IS SDB GONNA SUBMIT!!!

Jess- Ive never seen him up to this point, but it would be glorious wouldnt it!

Gorilla- Bret is wrenching hard on that knees and legs of SDB here. SDB is feeling is as he is clawing and grasping for the closest ring ropes. The corwd is going absolutely insane here!!!
---
SDB will be back....someday
06-01-2015, 12:18 AM
(This post was last modified: 06-01-2015 12:19 AM by jackspicer.)
Post: #10
jackspicer


Jack Spicer


Posts: 42
Joined: Feb 2015
Reputation: 0
Status: Offline
OPENING: Austin vs SDB
Steve sees the opportunity and runs to grab the ring bell still sitting on the apron.

Gorilla: What is he doing with that damn bell again?

Jessie: I don't think he is the official time keeper. I do not even remember the bell ringing to start this match in the first place.

Gorilla: You are right Jess this match didn't even officially start yet. What the hell are they thinking? The are just beating each other up for no reason it seems.

Steve is up on the second rope now. He comes down with the bell right on to Brett. Brett is split wide open now too. The crowd is on there feet. THIS IS AWESOME, THIS IS AWESOME.

Gorilla: They are just beating for beating sake.

Jess: I think I might lose my lunch this is just getting out of hand someone has to stop this madness.

Austin keeps hammering away on Brett in the corner. six, seven, eight.... Austin looks around and starts taunting the fans.

Austin: Oh look you hillbillies can count well good for you you can almost make it to 10.

SDB sees his chance and grabs Austin irish whip into the corner he runs full steam with a clothes line. Austin drops down and SDB gets a devious face about him. He backs up turns around and gives Austin a big butt to the face.

Gorilla: I hope Steve is alright he might have hurt is neck on that one.

Jess: I don't think I would be worried about my neck with that thing in my face.

Brett is sturing now on the other side of the ring watching at what just happened to Austin. SDB picks Steve up and puts him sitting on the top rope. Brett sees this and as SDB bends down jumps up and off of SDB's back up to Austin. SDB gets back up and goes right under Steve and Brett and picks them up and it's a power slam totem pole. All three men are down. The crowd can not believe this just happened. They are having dueling chants. SDB SDB BRETT BRETT AUSTIN AUSTIN

Gorilla: How can any of these men keep going here?

Jess: It's intestinal fortitude and a bit of a$$ woopen on the side.

Paul E. sees this chaos in the ring and knows that he has to do something. He runs over and grabs the bell and throws it over to Steve. Steve rolls Brett out on to the floor and grabs the bell. With leverage on the ropes he pulls a fist full of tights on SDB with one hand and rings the bell with the other. Paul E. is screaming at Charles to start the count.

Charles sees and doesn't know what to do at first but then gets down to count.

Charles: ONE........

Charles: TWO.......
User(s) browsing this thread: 1 Guest(s)