IC TITLE: Samoa Joe vs Magic Man
IC TITLE: Samoa Joe vs Magic Man
06-05-2015, 06:32 PM
Post: #1
Gordon Gekko


Hall of Famer


Posts: 4,663
Joined: Apr 2011
Reputation: 6
Status: Offline
IC TITLE: Samoa Joe vs Magic Man
WLF INTERCONTINENTAL CHAMPIONSHIP
Champion

Samoa Joe vs Christopher Knight
The Magic Man finally gets his long awaited rematch against the Samoan Submission Machine.
Will the former WLF Intercontinental Champion gain a measure of revenge and regain his gold?
Referee:

Chad Patton


Announcers:

Gorilla Monsoon and Jesse The Body Ventura
---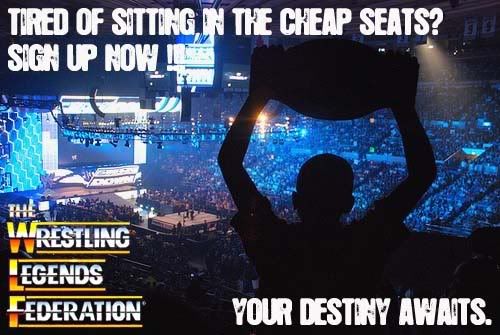 06-08-2015, 03:10 AM
(This post was last modified: 06-08-2015 07:55 AM by Nexus619.)
Post: #2
Nexus619


Wrestlemania Main Eventer.


Posts: 1,555
Joined: Nov 2011
Reputation: 0
Status: Offline
IC TITLE: Samoa Joe vs Magic Man
Gorilla Monsoon: Folks what a show we have had thus far and there's still plenty of action to come, including the anticipated rematch for the Intercontinental Championship as Samoa Joe defends the title against the challenger Christopher Knight.

Jesse Ventura: I don't get why Goat Face is bothering cashing in his rematch clause here tonight, I mean Samoa Joe made Knight look like a fool at Wrestlemania during their match.

Gorilla Monsoon: Folks if you missed Wrestlemania it was a war between these two guys and in the end after using despicable actions Samoa Joe defeated Knight to win the championship. I mean he locked Trish Stratus, who just had a child, a couple days before the big event in a Single Leg Boston Crab and Knight had no choice but to give up for the safety of his wife.

Jesse Ventura: You see that's the difference between Joe and Goat Face, Joe is willing to do whatever it takes, controversial or not to get the job done, while that idiot Knight does what the people want and in the end it always bites him in the ass. At least Joe is a champion that we can all look up to.

Gorilla Monsoon: Oh brother! How much money is the Bullet Club paying you every week to kiss their behinds at the commentary table huh.

Jesse Ventura: You are just like these Canadians, I mean you can't recognize true talent when it's right in front of your faces, you guys cheer for idiots like Danny B and Goat Face, last I recall this is a wrestling business and not sports entertainment.

Gorilla Monsoon: (Ignoring Jesse Ventura) Anyway speaking of the Bullet Club, last week they faced off against the Shield in a match where the losers must disband and right from the start Samoa Joe was eliminated and guess who showed up, Christopher Knight and a huge brawl broke out and before things could get out of hand WLF officials came and separated these two guys from ripping each other apart, you know I've heard a rumor that Trish Stratus is here in the arena tonight.

Jesse Ventura: She can't be here tonight because someone has to stay home and watch that baby of theirs, I mean she's already seen mommy and daddy get embarrassed.

Gorilla Monsoon: Your a heartless human being, you know that. Anyway I'm hearing that our colleague is standing by with the challenger, Christopher Knight, take it away!!!

Backstage....

Mean Gene Okerlund: Thanks Gorilla Monsoon, I'm here outside the locker room of Christopher Knight and folks in just a few moments we will be with the challenger for the Intercontinental Championship and here he comes........

Mean Gene Okerlund is interrupted as the door to Knight's locker room swings open and the rumor is answered as out steps Trish Stratus, who besides just having a child, looks to be in good shape. The fans inside the arena erupt as it's been awhile since we've seen Trish here on Prime Time.

Mean Gene Okerlund: Trish Stratus is indeed here tonight and Trish I would like to congratulate you on your return to Prime Time.

Trish Stratus: Thanks Mean Gene, it's great to be back here in the Wrestling Legends Federation and I can't think of a better place than my home country of Canada to return and see my hubby recapture the Intercontinental Championship from that no, good SOB Samoa Joe!

You see I'm still not physically able to compete, but when the time comes I will step back inside that ring because let's face it there's still much more I've yet to accomplished in my tenure here and that's finally capture the WLF Women's Championship. I mean I've been in this company for awhile now and I've yet to win the big one and let's face it, it would look real good around my waist when I finally get that opportunity. I've been keeping up with the Women's Division since I've been gone and I must say this division had a welcome call at Wrestlemania when KHAN and his group of ladies showed up and have destroyed everything in their path so far, but they can and will be stop. Anyway that's for a different time as there's been something I've been thinking about since I left and that's Mickie James and how she still thinks that she runs this division, I mean Mickie I hate to say it but this isn't 2011 anymore sweetie and you and I have some unfinished business before I even think about pursuing the Women's Championship!

Trish Stratus finishes and Christopher Knight walks into view and gets a great reception from the fans from inside the arena and he walks up to his lovely wife and grabs her hand.

Mean Gene Okerlund: There you are Christopher Knight, now can I get your thoughts about your match tonight as you have the opportunity to regain your Intercontinental Champion, the championship you lost at Wrestlemania after you were forced to give up and protect the safety of your wife.

Christopher Knight: You know Samoa Joe was lucky that those officials were in the arena last week because if they weren't then Samoa Joe wouldn't be here, no he would be lying in a hospital battered and beaten after the little stunt he pulled at Wrestlemania. Not only did he embarrassed me in front of my family, but you made the biggest mistake of your life when you locked my wife in a Single Leg Boston Crab. Joe you don't want to piss me off because when I'm mad I go to a dark place and it looks like that tonight that's where I'm going to go and I never thought I would have to go back to this place.

You see tonight I have the chance to win back the Intercontinental Championship and I said that was my greatest accomplishment in my life, well that's change and the best thing I've done is marrying this beautiful woman and having a child. What I'm trying to say is that tonight I don't care if I win or lose because I just want to get my hands on that SOB and you know I'm done playing around.

Christopher Knight grabs a hold of Trish's hand and they walk out of view hand in hand as we see them go and we return back to ringside where Gorilla Monsoon and Jesse Ventura await.

back to ringside.......
---
You are not allowed to view links. Register or Login to view.
06-08-2015, 08:44 AM
Post: #3
Gordon Gekko


Hall of Famer


Posts: 4,663
Joined: Apr 2011
Reputation: 6
Status: Offline
IC TITLE: Samoa Joe vs Magic Man
Jesse Ventura:

You know what, Gorilla? I think it's a very bad idea for Goat Face to bring his wife out with him down ringside. Has he forgotten what happened the last time she was this close to the ring?
Gorilla Monsoon:

I'm sure it's very fresh in his mind, Jess, though I'm inclined to agree with you there. Given what he's done at WrestleMania to win the title, who knows how far Samoa Joe will go in order to retain it.
Jesse Ventura:

Exactly. This is the Samoan Submission Machine you're talking about here. He can really turn if up if he chooses to.
Gorilla Monsoon:

He could've easily broken Trish's leg as well. Knight had no choice, but to submit.
Jesse Ventura:

He might just decide to break something else if she's within his reach.
Gorilla Monsoon:

Let's just pray that it doesn't have to come to that. Our backstage crew has not been able to pinpoint the whereabouts of Samoa Joe, I'm sure he's somewhere in this building. But we did receive this pre-recorded interview from the WLF Intercontinental Champion earlier this evening.
Pre-recorded interview.
Samoa Joe:

You think I'm playin' with you, boy? Huh? You think I'm playing with you? You and your meddlesome jezebel of a wife? Did you think it was over when you lost your belt to me, eh Chris? Or did you think it was over when you smash me over the head with my own title belt? Did ya? Cause I certainly didn't think so. I won the title from you, Chris. I made you utter the words "I Quit" when I made your wife writhe and squirm beneath me. I'm sure that's more excitement than you've even given her. Who knows? Maybe your boy should start calling me daddy. That was my moment, Chris. That was my crowning moment... to win the WLF Intercontinental Title at WrestleMania. But then, you just had to go and spoil it all by knocking me out. You already lost the match, Chris. You conceded to me. What were you thinking?

And I hope you had your fun when you cost me my match against the Shield last week. You had no business getting involved the way you did, none at all. You have a problem with me, you come and take it up with me directly. Be a man about it. None of this sneak attack bullshit. You want your title back, Chris? Is that it? You want your rematch? Cause you got it... here tonight. I'm just not sure whether you know what you're in for tonight, Chris. Maybe you're suffering from short-term memory loss from banging your head one too many times. Or maybe you're in denial. Personally I don't give a damn what your ailment is. The fact remains that you have put your name on the dotted line to face me, the Samoan Submission Machine.
Samoa Joe:

Come hell and highwater, you will feel pain, Chris. I will beat you up like the dog that you are. And I will make you squeal like a pig with the most punishing and torturous holds known to man. You will suffer for your actions. And once I'm through with you, maybe Mrs Knight might decide that she wants in on some S&M play. And when that happens, Chris, there's not a damn thing you can do about it. Cause you know why? You will be nothing more than a broken bundle of bones contorted like a human accordion, wallowing in a pool of your own blood. Just know this... you brought this on yourself.
Back in the arena with Gorilla Monsoon and Jesse the Body Ventura.
Jesse Ventura:

That is one scary man.
Gorilla Monsoon:

Samoa Joe has taken quite an aggressive stance ever since joining the Bullet Club.
Jesse Ventura:

And it's done wonders for his career. He wasn't even close to winning any titles during his last tenure here and now he's the reigning WLF Intercontinental Champion.
Gorilla Monsoon:

A feat accomplish via controversial means I might add.
Jesse Ventura:

Hey, the rules stated very clearly that the way to win the match was to make your opponent utter the words "I Quit", and he did just that. Forget the how. In twenty years time, nobody's gonna remember how he did it anyway.
Gorilla Monsoon:

No, but he's made an enemy for life in Christopher Knight.
Jesse Ventura:

And he supposed to be quaking in his boots in fear of Goat Face? Gimme a break, Monsoon.
Gorilla Monsoon:

All I can say is, Jess, it's just wrong to mess with another man's family. You don't do that, you just don't.
Jesse Ventura:

Where is he, Gino? I don't see him anywhere.
Gorilla Monsoon:

It's unlike Samoa Joe not to show up for a match; I know him to be a true professional.
Jesse Ventura:

And he usually doesn't take long to make his entrance either; this guy is all business when it comes to his wrestling.
Gorilla Monsoon:

Where is he?
Just then, Samoa Joe comes through the crowd and hops over the guardrail. The Samoan Submission Machine sneaks inside the ring and creeps up behind his challenger. Trish Stratus spots the champion and tries to warn her husband, but it's already too late.
Trish Stratus:

LOOK OUT, CHRIS!!!
Jesse Ventura:

Too late.
Gorilla Monsoon:

Come on! Is this truly necessary?
Jesse Ventura:

I'm sure Samoa Joe probably thinks so.
Gorilla Monsoon:

Samoa Joe sneaks up behind Christopher Knight, waits for him to turn around and brands him right across the skull with the WLF Intercontinental Championship!
Jesse Ventura:

That was for WrestleMania. What's that you always say, Gorilla? What's good for the gander is good for the goose?
Gorilla Monsoon:

Samoa Joe is insisting that the referee calls for the bell to officially start the match, but he's clearly got an unfair advantage here.
Jesse Ventura:

Goat Face might already be knocked out! This could be the shortest match in Prime Time history!
---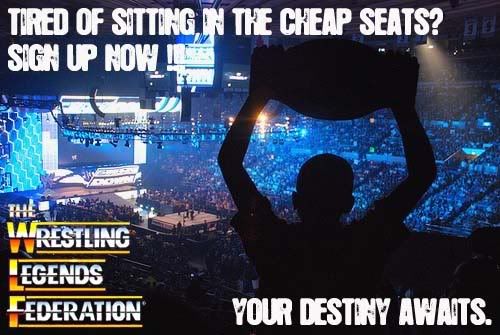 User(s) browsing this thread: 1 Guest(s)